Damages Creators' Family Drama Gets A Series Order At Netflix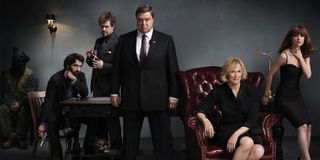 Damages creators Todd A. Kessler, Daniel Zelman and Glenn Kessler should know a thing or two about alternative means of distribution when it comes to television. When Damages lost its spot at FX, DirecTV was there to swoop in and pick up the series, airing it on their Audience Network channel, where the series played out for two more seasons. Netflix might have been a good home for a show like Damages, had the streaming video service been offering subscribers original programming back in 2007. With that in mind, there's good news for fans of the writing trio, as Netflix has ordered a new psychological thriller from Kessler, Kessler and Zelman.
Netflix made the announcement today that the drama series comes from the Damages creators and Sony Pictures Television, and centers on a family of adult siblings whose secrets and scars are revealed when their black sheep brother returns home. The creators describe it as "A tightly wound thriller that explores the complex bonds between parents and children, brothers and sisters, and the rivalries, jealousies, and betrayals at the core of every family." And Netflix's statement adds that it "explores the wounds and emotional demons that lie at the core of a contemporary American family." Netflix has ordered a 13-episode first season, which will premiere on Netflix for subscribers to watch instantly in all of the service's territories. No word on when they plan to debut it, but it's set to start production early next year (2014).
"We were spellbound after hearing Todd, Glenn and Daniel's pitch, and knew Netflix was the perfect home for this suspenseful family drama that is going to have viewers on the edge of their seats," said Cindy Holland, VP of original content for Netflix. "Their work on 'Damages' was truly ahead of its time and we're proud to be bringing our viewers this upcoming series."
I'll admit, I'm a happy Netflix subscriber and fairly fascinated with the way the service is handling their original programming business. Upon hearing this news, I immediately went to Netflix, placing a bet with myself that Damages was available streaming and sure enough, it is. I have no doubt that Netflix took into account Damages' Netflix viewership -- whatever that may be -- when making their decision to move forward with this new drama. That assumption goes back to an interview Netflix's Ted Sarandos did, where he spoke about the way they mine the data they're collecting from our viewing habits to make their decisions on new programming:
Netflix takes a risk by forgoing the pilot stage of their series development, essentially jumping from pitch to series order on their projects. But it's a calculated risk, and in the case of this new family drama, with its vague but intriguing premise, it stands to reason that Netflix would take into account the popularity of Damages with their subscribers. And very possibly whatever Damages overlaps with among viewers that would make them think this new drama would be a winner for them. It'll be interesting to see who's cast in this new series.
Your Daily Blend of Entertainment News
Thank you for signing up to CinemaBlend. You will receive a verification email shortly.
There was a problem. Please refresh the page and try again.