David Milch To Adapt William Faulkner For HBO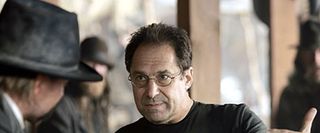 David Milch and HBO: they're two great tastes that taste great together. It began with Milch's epic Deadwood, and looks set to continue with the gambling drama Luck, which premieres this January. (We'll just do our level best to forget all about John from Cincinnati…) Now Milch and HBO have renewed their vows by signing a new multi-year deal. Perhaps the most interesting part of the deal will call for Milch to produce series, miniseries, and movies based on the works of William Faulkner.
According to the Los Angeles Times, the deal with Faulkner's literary estate encompasses the whole kit'n'kaboodle: 19 novels and 125 short stories, including works like The Sound and the Fury and Light in August. Under the agreement, HBO gets the first chance to produce and distribute the projects based on Faulkner's catalogue.
Milch released a statement about the deal:
In an extended interview with the LAT, Milch said that he found Faulkner's books "enormously cinematic," despite the author's work being notoriously hard to get right on screen. He also explained that he was attracted to Faulkner's writing because "Faulkner speaks to us on the questions of race, the challenges of modernity and modern man's dilemma in all of its aspects." With so much material to choose from, it's no surprise that Milch says they haven't made any decisions about what will be the first project in the docket.
This is the sort of stuff that inevitable Emmy nominations are made of. With HBO's excellent reputation for high-quality adaptations and Milch's proven knack for telling period stories in fascinating and relatable ways, the partnership of HBO, Milch, and Faulkner should produce some amazing stuff.
Your Daily Blend of Entertainment News