David Tennant Joins ITV's Broadchurch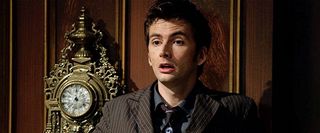 David Tennant has just picked up a third role for current British television, this time in the ITV eight-part series Broadchurch. He'll add this role to a workload that already includes a mini-series for BBC Four, The Spies of Warsaw and BBC Two's The Politician's Husband. The former Doctor Who star is definitely keeping busy.
Tennant has signed on for a role in the ensemble drama Broadchurch as a police detective in charge of the investigation of the murder of a young boy, says Deadline. The series will tell the story of the impact of the murder on the small town where it takes place as the media descends upon its people in search of a sensational story. The series comes from Chris Chibnall, who executive produced Camelot, and Downton Abbey director James Strong will direct the first and last episodes.
Also on board for Broadchurch are Olivia Colman, who worked alongside Tennant on Twenty Twelve (Tennat narrated the series) and recently appeared in The Iron Lady, and Vicky McClure of This is England. There's likely more casting news to follow for this one, and with Tennant on board it's already looking like another strong effort by British television. Filming is set to start in the middle of August, but there's no word on when the series will air either in England or over here in the U.S. We might get to see him in The Spies of Warsaw over here by the end of the year; there's an October release date for the U.K. and it could get to U.S. television soon after.
Your Daily Blend of Entertainment News
Thank you for signing up to CinemaBlend. You will receive a verification email shortly.
There was a problem. Please refresh the page and try again.