Debra Winger In Talks To Get Analyzed On In Treatment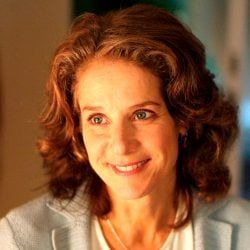 You may have noticed that I'm stepping into the TV section this week to lend a hand while some of the regulars are on vacation. In my week of reporting TV news, I've been consistently amazed at how often I wind up reporting on actresses-- like Diane Keaton and Carla Gugino-- who haven't been getting the best roles in movies lately, but are now moving on to TV to find better fortunes there.
Now add yet another actress to the list-- and an Oscar nominee at that. Deadline is reporting that Debra Winger is in negotiations to have a regular role on In Treatment, playing yet another patient of Gabriel Byrne's psychotherapist character Paul. And whether or not the character was written for Winger, it's one that cuts pretty close to home-- she plays "a former big star who is battling insecurity and fear about her career."
Winger, who had her heyday in the 80s with movies like Urban Cowboy, Terms of Endearment and An Officer and a Gentleman, is hugely selective about her roles, and has really only been in one film of any note in the last decade, putting in a terrific supporting performance in Rachel Getting Married. The role on In Treatment might put Winger more in the spotlight than she's been in years. Can anyone see a downside to this, because I sure can't.
Your Daily Blend of Entertainment News
Staff Writer at CinemaBlend