Degrassi Star Neil Hope Reported Dead Since 2007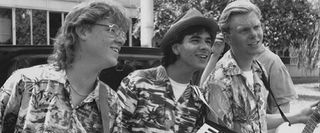 As a girl growing up in Canada in the 80s and 90s, I watched Degrassi High religiously. It was our own show, something that felt real to Canadians. So I'm saddened to read tonight the news that one of the original stars of the show, Neil Hope, apparently passed away back in 2007 – and the news only came out today via Facebook. The kids of Degrassi would have been amazed to see what social media can do.
A Facebook fanpage created to try to lure the actor onto the site was the source of the report, apparently from Neil Hope's sister-in-law Tracey Northrup Hope. Degrassi creator Linda Schuyler issued a statement in response to the breaking of the news:
It was apparently the wish of the family that the news of his death not be made public. Neil, who played "Wheels" on the series, didn't do much work beyond several branches of the Degrassi series including The Kids of Degrassi Street, Degrassi High and Degrassi: The Next Generation. His curly hair and huge 80s glasses made him as recognizable to Canadian audiences as "Spike"'s punked out platinum blonde hairdo. Degrassi is one of those shows that is uniquely Canadian and gave us a group of teens whose lives we could follow and identify with.
Neil Hope apparently passed away of natural causes on Nov, 25, 2007. He was 35 years old at the time. If the Facebook posting is accurate, the family wants things to stay private and we likely won't see much more in the way of details on his death. Rest in peace, Wheels.
Your Daily Blend of Entertainment News
Thank you for signing up to CinemaBlend. You will receive a verification email shortly.
There was a problem. Please refresh the page and try again.