Denis Leary Developing Comedy Sirens For USA Network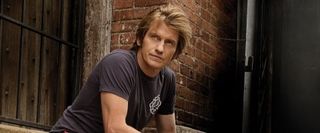 Rescue Me is coming to an end this year, but Dennis Leary is already making plans to continue his TV producing career. The comedian and star/co-creator of FX's bold firefighter drama has signed to co-write and develop USA's upcoming comedy series Sirens.
Based on a UK show of the same name, Sirens sounds like it could end up looking like a slightly skewed version of Rescue Me, only this time, Leary will explore the dark and twisted lives of young paramedics instead of New York firefighters.
Sirens will, however, offer more straight up comedy than Rescue Me, which is a very funny show, but tends to lean heavier on the drama side of the TV landscape. Leary is co-writing the project with Wedding Crashers and Traffic Light scribe Bob Fisher. And, according to USA, Sirens is billed as a half-hour comedy that follows the "humorous antics and dramatic conflicts of young paramedics," reports Entertainment Weekly.
The USA release goes on to say that the new version of Sirens centers on a crew of ambulance jockeys who "fight and shag their way through the darkly funny maelstrom of their lives."
Darkly funny maelstrom, eh? Sounds like territory Leary has already covered quite well with Rescue Me, his short-lived ABC series The Job, and his aggressive stand-up comedy.
I've never seen the original British series - or read the book that it's based on, Blood, Sweat and Tea -- so I don't really know what to expect from Sirens. Still, it's hard not to have hope for this project with Leary at the helm. After more than three decades in the biz, Leary has remained a singular, interesting, and brutally honest voice in the entertainment industry, and he's a performer/writer whose paid his dues and exudes integrity. Plus, it'll be interesting to see what a Denis Leary/USA project will look like. Rescue Me's brand of hard-edged, personal drama and TVMA comedy have helped define the tone and brand of FX's original programming lineup over the past few years, and USA's "character's welcome" brand offers a much lighter vibe with shows like Burn Notice and White Collar.
It's unclear if Leary will appear onscreen here, but, according to The Hollywood Reporter, USA intends to ask him to take a supporting role in the project.
Rescue Me executive producer Jim Serpico has also singed on to co-produce Sirens alongside Hal Vogel and David Aukin of Daybreak Pictures.
Your Daily Blend of Entertainment News
Thank you for signing up to CinemaBlend. You will receive a verification email shortly.
There was a problem. Please refresh the page and try again.