Dexter Producer Says Showtime Wouldn't Let Dexter Morgan Die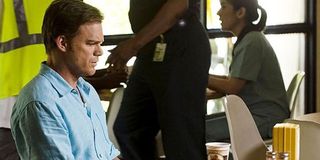 Over the last several weeks, two long-running and popular programs went off the air. Both Breaking Bad and Dexter developed loyal followings during the tenure of their respective runs, but while Breaking Bad went out with a bang, Dexter went out with more of a whimper. Many fans were disappointed with the last episode of Showtime's subscription cable series, and much of this anger and annoyance was directed at the fact that serial killer Dexter Morgan did not get any sort of comeuppance at the end of the series. Over the weekend, producer John Goldwyn spoke out about the finale, explaining why Dexter ended without killing off its lead.
Vulture caught up with the producer at the NYFF premiere of The Secret Life of Walter Mitty and brazenly asked the man about the finale. According to Goldwyn, it was Showtime's call to keep Dexter alive at the end of Season 8.
The Dexter ending has been discussed and openly ridiculed on both review sites and social media platforms, and with reason. Fans have seen Dexter get away with a lot of nonsense over the last several seasons, but the rushed way he ran through the finale, pulling the plug on Deb and killing Saxon at the precinct while plenty of cameras watched really only left room for one ending for Dexter. He could have tamed the monster within. He could have been free. But only by dying. Instead, he crashed his boat and ended up working as a truck driver in a brand new location. For more details on that, you can read our recap, but I find it interesting that Goldwyn is blaming the network for the finale's faults.
It certainly seems like Goldwyn is implying with his statement that the writers were planning on killing off Dex in the final episode of the series, but were unable to, thanks to the network's orders. I'm not sure why Showtime would care whether or not Dexter died in the last episode, but maybe they were worried the show would come off as half-baked as the finale of HBO's Big Love (although I daresay Dexter dying makes more sense than Bill dying). Goldwyn's statement also contradicts what executive producers Scott Buck and Sara Colleton have been saying about the finale. Still, even if Showtime really did say, "Don't kill Dexter," I think it's important to note that all of Dexter's eighth season was a little lackluster, not just the finale. Even if Showtime made a poor decision and did hamper the creativity of its writers, I'm not sure that would have changed the overall trajectory of Season 8.
All in all, Dexter certainly won't go down as one of the best series finales in memory. The show will just need to hope that history will be kind to the drama and the finale won't go down as one of the worst ever. I'm not holding my breath.
Amazing Race & Top Chef superfan with a pinch of Disney fairy dust thrown in. If you've created a rom-com I've probably watched it.
Your Daily Blend of Entertainment News
Thank you for signing up to CinemaBlend. You will receive a verification email shortly.
There was a problem. Please refresh the page and try again.