Dick Clark And Ryan Seacrest Rock In The New Year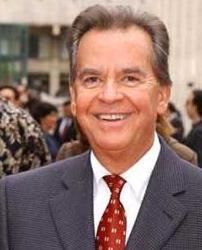 Dick Clark, now 77 years old, will be there in Times Square when the ball drops New Year's Eve. This is his second appearance rocking in the New Year since his stroke of December 2004. But he won't be alone. Ryan Seacrest, who is poised to take over full duties when Clark is unable, will also be there.
Clark has been battling in therapy to recover his motor functions and speech since the stroke. In an interview with the Associated Press Clark stated, "I am happy that I'm alive, that I'm reasonably well. I'm sad that I'm impaired with my walking and my speech is impaired. But I'm happy."
Seacrest spoke for Clark at the news conference regarding the 2007 celebration, saying that when he visited Clark the former 'American Bandstand' host was "relaxed" and in good spirits.
Joining both Seacrest and Clark this year will be 19 (Yes, you read that right) performances from top industry performers like Christina Aguilara, Ludacris, and the Rascal Flatts.
'Dick Clark's Primetime New Year's Rockin' Eve 2007' kicks off live at 10:00 p.m. EST (tape-delayed PT). Tune in to celebrate another year with Dick Clark; it's possible to be one of his last as the man who never ages is approaching his final countdown. Let's just hope that every year doesn't end with the phrase, "Seacrest out."
Staff Writer at CinemaBlend.
Your Daily Blend of Entertainment News
Thank you for signing up to CinemaBlend. You will receive a verification email shortly.
There was a problem. Please refresh the page and try again.