Did People Actually Watch Peter Pan Live? Here's What The Numbers Say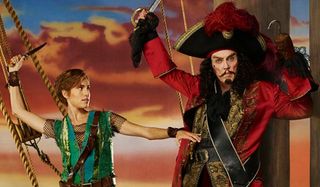 Well, the numbers are in and NBC's live spectacular take on Peter Pan soared high…just not high enough. The NBC event was clearly a hit but, unfortunately, it did not put the three-hour live production into the ratings stratosphere that some industry insiders might have hoped.
When it was all said and done, Peter Pan Live scored a solid 2.3 and 6 share in the key demographics of ages 18-49, which roughly translates to over 9 million viewers that watched the boy/girl that would never grow up. The telecast delivered the second-highest 18-49 ratings for NBC on a Thursday, excluding sports telecasts, in three years, since Steve Carell signed off of The Office in April 2011.
According to the numbers that Peter Pan managed to muster, they were very solid for a production that was something of a test as NBC enters the waters of live filmed entertainment. The powerhouse performance of last year's effort did prompt NBC to sign on and produce more live presentations of musicals for the network in the future., Peter Pan being the first of the bunch in the new wave of extended live programming.
Remember, these live productions are very carefully planned and produced and made for maximum exposure to their target demographic. NBC's event programming was ready and waiting for Captain Hook and company to take on last year's live runaway hit, The Sound of Music Live! starring country superstar Carrie Underwood which did boffo numbers for the network. After the runaway success of Underwood's musical, it was a no brainer for NBC to delve back into the live production business this holiday season. At the very least, Peter Pan managed to avoid the "hate watching" of the special which was the scourge of The Sound of Music Live! a year ago.
This year's selection of Peter Pan Live starred Girls actress Allison Williams as the iconic lead and the brash and bold Christopher Walken as Captain Hook, and both were both smart casting choices. Girls' cult following probably helped Williams' audience, and who can turn down watching perennial tough guy Walken prove that the actor's early song-and-dance days are still with him.
NBC Entertainment chief Bob Greenblatt called it "a great night for NBC," and added this bit of silver lining-grasping, according to Variety.
The timeless stories of our youth will always have a special place in our hearts and whatever the networks can do to resuscitate a little more childhood out of the working man, I am all for it. Of course, there had better be some CGI in whatever comes next!
Your Daily Blend of Entertainment News
Thank you for signing up to CinemaBlend. You will receive a verification email shortly.
There was a problem. Please refresh the page and try again.