You Can't Hate Watch Peter Pan Live!, Says The Cast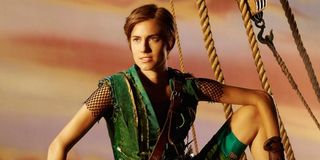 Peter Pan Live! is just about upon us and the buzz, both good and bad, is starting to hit its tipping point. Peter Pan Live! lead Allison Williams is playing the title role in the massive NBC production and sounds prepped and ready for the production set to air on the Peacock network. But the actress is very aware of the growing trend in TV watching simply known as "hate-watching" that infiltrated last year's NBC live TV effort of The Sound of Music.
When talking about Peter Pan Live!, Williams sounds like she's coating herself in Teflon, preparing for any negative feedback that comes the production's way.
You have to hand it to Williams; in the quote to THR, she sounds ready to take on all of the naysayers that may not be the biggest "Pan-Fans" and are just tuning in to the production to see a live gaffe or screw up performance. Let's face it, nobody loves it more than when something unplanned happens during a live production. However, Williams knows that there is a possible dark side to playing the iconic character of Peter Pan--especially after last year's reception of Carrie Underwood's The Sound of Music Live!.
Underwood's performance was poorly received, and not just by critics. In fact, the whole production in general was lambasted by the audiences who watched. I am of course talking about the growing trend of hate-watching, which is often accompanied by live tweets from viewers voraciously tearing into what they are watching live. Still, NBC had the last laugh with The Sound of Music, as it scored with 18.5 million total viewers watching live (that figure jumped to nearly 22 million with DVR users).
While Williams is asking fans to go in with an open mind, her co-star Christian Borle (who is not only playing the dual role of Mr. Smee & George Darling in Pan but also had a part in last years The Sound of Music) takes a different approach to the haters.
Personally, I have always been a fan of the J.M. Barrie classic; most notably in Spielberg's 1991 Hook and the underrated 2003 adaptation Peter Pan from director P.J. Hogan. Jason Isaacs (aka Lucius Malfoy) as Captain Hook really stole the show in that iteration, and although it did not set any box office records, that is my "go-to" Peter Pan film when I feel like never growing up! It seems that the Peter Pan continues to be popular, with 2015's Pan also on the way. Still, we need to get through Peter Pan Live! tonight, first.
How Peter Pan Live! does tonight could be the sign as to whether or not NBC will continue to branch out their live productions to more than once a year. Peter Pan Live! airs tonight at 8 p.m. on NBC.
Your Daily Blend of Entertainment News
Thank you for signing up to CinemaBlend. You will receive a verification email shortly.
There was a problem. Please refresh the page and try again.