Dinner: Impossible Cancelled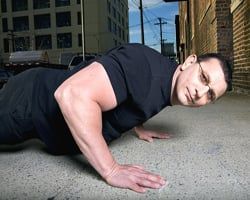 Robert Irvine, the featured chef of Dinner: Impossible joins the ranks of other famous liars like Stephen Glass, Bill Clinton and Richard Nixon. The show is in it's 3rd season , and apparently the folks who are in charge over there just got around to actually checking into the host's CV. Turns out, that Robert did not work on Princess Diana's cake, and he was most certainly not a chef in the White House.
Below is a statement from Mr. Irvine, which was posted at Food Network Addict:
"I was wrong to exaggerate in statements related to my experiences regarding the Royal Family. I am proud of my work while serving in the Royal Navy and on board the Royal Yacht Britannia, also as part of the Guest Chef program in the White House with the United States Navy, in addition to my culinary accomplishments. I should have stood on those accomplishments alone, without embellishment. I remain committed and enthusiastic about my work with Food Network and other future endeavors. I am truly sorry for the errors in my judgment. To all my family, friends and loyal fans, I will work tirelessly to regain your trust and continue to use my show and life to benefit the less fortunate."
Mr. Irvine's show was shown on Food Network and according to their website . the premise behind the show is:
"If you could combine James Bond with MacGyver, you would get Robert Irvine, a real life chef extraordinaire and the host of Dinner: Impossible. Each week, Robert (with the help of his two sous-chefs, George and George) is thrown a new culinary curveball and the team must figure out a way to solve their challenge before time runs out. From making dinner for 150 passengers aboard a luxury locomotive to recreating an authentic 18th century meal, will he succeed or will it truly be, Dinner: Impossible?"
The show has featured diverse locations such as Williamsburg, VA, the Philadelphia Eagles Stadium, and Graceland.
Your Daily Blend of Entertainment News
Thank you for signing up to CinemaBlend. You will receive a verification email shortly.
There was a problem. Please refresh the page and try again.