Donald Trump And Bret Michaels Teaming Up For New Reality Series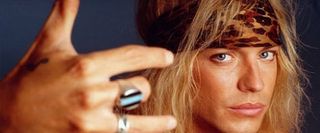 Hair band meets bad hair for a new reality show? Donald Trump is apparently in talks with Poison front man Bret Michaels to create a reality series that will see the rocker traveling the country in search of people he can help overcome their problems. Titled Something To Believe In, the new series isn't the first time Donald and Bret have met on the reality TV stage, but it seems to be going in a very different direction from past endeavors.
Donald Trump has set his sights back a little lower after dropping out of the Presidential race in May. The New York Post reports he's working on a new series with Bret Michaels, who won Celebrity Apprentice in its third season back in 2010 in spite of a life-threatening illness. Michaels, who is best known for fronting one of the most successful glam rock bands of the late 80's, Poison, has in recent years moved on to make a name for himself in reality television. He has run the gamut from a trashy version of The Bachelor called Rock of Love in which a group of 80's Barbie doll lookalikes competed for his attention, to his VH1 series Bret Michaels: Life As I Know It.
This new series will see Michaels present his philanthropic side, seeking out people facing adversity in their lives and swooping in to the rescue like a long-haired, guitar-toting, rhinestone cowboy hat-wearing angel of mercy. Or something like that. Trump, whose long-running Apprentice series is likely nearing the end, is probably looking to hop on board with Michaels in the hopes of a new hit – and that perhaps being involved in such a project will improve his image and give him better odds the next time he throws his hat in the political ring.
The series is still in the beginning stages, but the unlikely pair certainly has the financial backing and the reality TV background to make it happen. Michaels, who still has a strong following of nostalgic Poison fans could very well take this show on the road.
Your Daily Blend of Entertainment News