Drive's Nicolas Winding Refn To Direct Barbarella For Gaumont International Television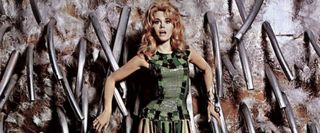 Gaumont International Television, the American based production and distribution offshoot of the famed European feature studio, continues to add to their incredibly intriguing line-up of new programs. GIT is already behind Bryan Fuller's small screen reworking of Thomas Harris' famous character Hannibal as well as Eli Roth's turn to television with the horror story Hemlock Grove and now they've set their sights on Nicolas Winding Refn's vision for counter culture icon Barbarella.
Deadline reports that GIT and producer Martha De Laurentiis have teamed up with the hot Danish director to bring Jean-Claude Forest's famous character to TV. The potential Barbarella television series would be based on Forest's graphic novel about a highly-sexualized heroine from a distant future tasked with hunting down and defeating the evil Durand-Durand. The story was made famous thanks to the cult classic 1968 sci-fi movie of the same name directed by Roger Vadim and staring Jane Fonda.
As Deadline's story notes, De Laurentiis' late husband, Dino, had been busy working on a Barbarella movie for some time before his death two years ago. There was ongoing talk of Robert Rodriguez directing Rose McGowan in the picture but the last whispers we heard were the 2010 rumors that the film was finally moving forward with Anne Hathaway of all people in the lead. As interesting as that, or the Rodriguez-McGowan, version may have been, the project being put together by Gaumont sounds far more promising.
I mean, just listen to the sound of 'Nicolas Winding Refn's Barbarella.' Pretty rad right? GIT CEO Katie O'Connell agrees stating how they "are thrilled to have secured the rights... and to be pairing the bold visceral style of Nicolas Refn with the pop culture icon Barbarella." And the company is clearly invested in the young filmmaker since they have, well, literally invested in two of his next features including Only God Forgives which reteams him with his muse Ryan Gosling. Perhaps the director even had some sway in convincing Gaumont to go with Mads Mikkelsen as their Hannibal since the actor has starred in several of Refn's films.
Speaking of stars, who might they have in mind to fill the role made famous by Fonda? If schedules permit, I wouldn't be surprised if Refn turned to his Drive supporting actress Christina Hendricks because, not only does she have the look, but she was also his first choice when fantasy casting the Wonder Woman movie he wants to make. Hendricks is amazing on Mad Men and her brief turn on Firefly makes me think she's could pull off Barbarella, what do you think?
Your Daily Blend of Entertainment News
Thank you for signing up to CinemaBlend. You will receive a verification email shortly.
There was a problem. Please refresh the page and try again.