ER's Eriq La Salle Dons Doctor Garb For A Gifted Man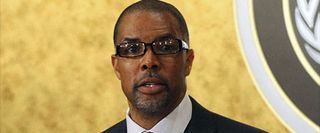 When you play the same character on a medical drama for almost a decade, I'd imagine it would be a lot easier to be thought of as a doctor-type rather than in any other acting capacity. At least that's how it seems to be going for ER's Eriq La Salle, who is slated to join Patrick Wilson's new medical drama, A Gifted Man, this fall. Granted the actor has taken turns on several non-medical shows including The System and 24 since his role on ER ended, but it still seems fitting he will join the medical drama in a multi-episode arch.
La Salle may have had to deal with emergency room trauma and a deaf child during his tenure as Dr. Peter Benton on ER, but he'll have a whole different outlook in the upcoming drama. THR is reporting La Salle is set to play neuropsychiatrist Evan Morrison, a medical detective who focuses on human behavior.
Something tells me he'll be dealing frequently with Patrick Wilson's character, who is getting plenty of advice from his ex-wife (or, his dead ex-wife to be exact). Anyone seeing dead people could probably stand to talk to a neuropsych-whatever. The science-y, medical drama has retained La Salle for at least four episodes. It would be great if they could figure out how to keep the actor, long-term, although if I were La Salle, perhaps I wouldn't want to get in to another medical show for the long haul.
A Gifted Man will premiere on CBS Friday, September 23 at 9 p.m. ET. If you want to know more about it, check out Kelly's preview.
Your Daily Blend of Entertainment News
Thank you for signing up to CinemaBlend. You will receive a verification email shortly.
There was a problem. Please refresh the page and try again.