Aquaman 2: What We Know So Far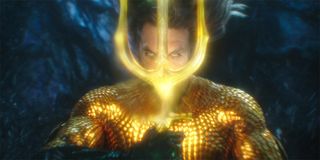 In 2018, James Wan's Aquaman became a remarkably surprising smash hit. Nobody really knew what to expect from it given that it was following the disappointing release of Justice League; centered on a character who had never had his own live-action solo movie; and was facing stiff competition at the box office in the form of Mary Poppins Returns, Bumblebee, and Spider-Man: Into the Spider-Verse. To everyone's shock, however, the film not only became a billion dollar hit, but now stands as the biggest worldwide earner in the history of DC Comics adaptations.
Naturally, the excitement that the project generated immediately led Warner Bros. to solidify a future for the franchise, and within a few weeks of Aquaman's release we learned about their plans to develop an Aquaman 2. But what will the project be about? Who will be making it? When will we actually get to see it? These are all major questions that we're here to discuss. In this latest edition of our What We Know So Far guides, we're going to break down all of the information that's currently available about Aquaman 2, and provide you with all of the most recent news that we've heard about the project. So, without further ado, let's dive in!
What Is The Aquaman 2 Release Date?
It's typical for Hollywood studios to try and produce sequels as quickly as they possibly can. After all, they don't want to let the heat of a burgeoning franchise die down, and the more time that passes means there's more opportunities for audiences to be distracted by other big properties. That being said, Aquaman 2 is taking an extra minute to find its way to theaters, as Warner Bros. has announced that the blockbuster follow-up is currently scheduled to be released on December 16, 2022.
So, why is Aquaman 2 coming out about four years after its predecessor? For starters, producer Peter Safran has noted that the filmmakers behind the movie don't feel the need to rush the project, believing that giving the sequel the most development time possible will ultimately be beneficial for the final product. But that's not the only reason. Not only is the film going to need some legitimate time to actually get made from a logistics standpoint (it's not super easy creating those underwater environments), but there are also many other DC Extended Universe titles in the works that the studio is developing between now and December 2022.
There are a number of exciting films currently in the pipeline for the larger DC brand, with titles including Matt Reeves' The Batman, James Gunn's The Suicide Squad, David F. Sandberg's Shazam!: Fury Of The Gods, Andy Muschietti's The Flash, and more. All of those blockbusters are set to come out between now and the release of Aquaman 2, and will deserve their own special attention from WB.
What Is The Aquaman 2 Rating?
The world of comic book movies has changed a great deal over the years. For the longest time, the concept of an R-rated superhero blockbuster seemed absolutely insane, as just by the nature of the rating a project would presumably be dismissing what was seen as a massively important demographic: teenagers. Then Tim Miller's Deadpool came along and completely shattered that notion forever by making nearly $800 million worldwide. After that, the entire concept became much more acceptable, and we have seen multiple examples since, the most recent being DC titles Joker and Birds of Prey (And The Fantabulous Emancipation Of One Harley Quinn). That being said, audiences shouldn't expect Aquaman 2 to receive any rating other than a PG-13 when it finally hits theaters.
Admittedly, final decisions in this arena aren't typically made until the film is near completion and the MPAA gets a look at the product that's heading to theaters, but it's basically impossible to believe at this point that Aquaman 2 will be made with anything other than a PG-13 rating in mind. After all, it's not really a character who is known for R-rated behavior in the comics, and the first movie functioned perfectly fine without any kind of extreme violence, overt sexuality, or adult language. So while there isn't really any kind of official word available in this arena, it's still pretty obvious what direction the project will go in.
Who Is Writing And Directing Aquaman 2?
Since breaking out in 2004, director James Wan has become one of the industry's most significant franchise masterminds. After all, his career not only started with the launching of the Saw movies, but since then he has also brought to life the terror featured in the worlds of Insidious and The Conjuring (not to mention the fact that he also directed Furious 7). The filmmaker is no stranger to sequels at this point... though he also has a history of not sticking around to complete full trilogies. Because of his strange relationship with follow-ups, it was unclear for a surprisingly long time if Wan was going to return to the helm of Aquaman 2, but now that contract appears to be set.
James Wan has kept busy since the release of the first Aquaman movie, returning to his horror roots by directing the giallo-styled feature Malignant, but his follow-up to that scheduled 2021 release will be Aquaman 2.
On the writing front, Aquaman 2 has David Leslie Johnson-McGoldrick holding the pen, having been a co-writer on the first Aquaman. The filmmaker has a bit of sequel experience on his resume already, having written Wrath Of The Titans, The Conjuring 2, and the upcoming The Conjuring: The Devil Made Me Do It, and it seems that Warner Bros. trusts him with the responsibility of structuring a proper follow-up to the biggest DC Comics adaptation ever.
The Characters And Cast Of Aquaman 2
Aquaman 2 is still in the process of putting its ensemble together, and will surely be introducing plenty of new DC characters to tell its new story along with all of the main characters who were introduced in the previous movie. What we know about the plot of the developing blockbuster tells us a bit about the heroes and villains we know will be involved, so let's break them down!
Arthur Curry a.k.a. Aquaman (Jason Momoa)
Jason Momoa has had many ups and downs over the course of his career – from playing Khal Drogo on Game of Thrones to his disastrous Conan The Barbarian remake – but now he's found some real stability courtesy of the DC Extended Universe. He first won a lot of people over with his charismatic turn as Arthur Curry a.k.a. Aquaman in Justice League, but the solo movie was really his show, and now the actor is a bona fide blockbuster star.
Aquaman, of course, went through some major changes in the 2018 movie, and it will be fascinating to see how he develops as a character through the events that play out in Aquaman 2. Initially the guy was seriously rough around the edges, being a part of two very different worlds while belonging to neither of them, but he became a very different hero by the end of the debut solo movie.
Not only did he finally begin understanding his place in the world, but he also found himself declared as the king of the seven underwater kingdoms – including Atlantis. But what kind of ruler will he actually be? Will he have what it takes to make the hard decisions that are required in the job? Will he be able to forge peace during threats of war? These are all big, lingering questions that will surely be addressed in the upcoming follow-up.
Mera (Amber Heard)
One could make a very strong argument that Arthur Curry would never have been able to ascend to the throne of Atlantis without the assistance of Mera in Aquaman, as she was there to support him every step of the way. She was the one who first got him involved in the fight against Orm in order to save the world; she saved his life multiple times; and all throughout the story provided crucial information that allowed Arthur to find the Trident of Neptune and solidify his claim. She was absolutely vital to the events of the blockbuster, and one can imagine that won't change in the slightest when it comes to the sequel.
Amber Heard confirmed in November 2021 that she will be back reprise her role as Mera in Aquaman 2, presumably working closely with the new king of Atlantis and making sure that he makes not only the right calls, but operates as a just and righteous leader. Exactly what her story will entail beyond the relationship is currently a mystery, but, hopefully, we'll get more information on that front as more details come out about the development of the project.
Black Manta (Yahya Abdul-Mateen II)
One of the biggest question marks going into the making of the first Aquaman was in regard to how the film would treat one of the heroes' most iconic villains: Black Manta. After all, while comic book fans have loved the look of the undersea antagonist for decades, it was unknown if the character would actually properly translate to the big screen (particularly his large, wide helmet). As it turned out, however, Black Manta, as played by the awesome Yahya Abdul-Mateen II, was one of the best parts of James Wan's 2018 blockbuster. And, while his role was ultimately fairly limited in terms of screen time, that should change a lot in the upcoming Aquaman 2.
Obviously the first movie was primarily dedicated to establishing the "origin story" of its titular superhero, but fans also got to see how Black Manta became Black Manta in the DC Extended Universe. Initially we meet him as a mercenary pirate pulling jobs with his father (Michael Beach), but he sees his life get turned upside down during a job gone wrong. Aquaman not only manages to stop a hijacking mission that he's on, but also watches his dad die as the Atlantian refuses to help him. He swears vengeance against Arthur Curry, and we expect to see a lot more of that vendetta in Aquaman 2 (Yahya Abdul-Mateen II has confirmed his involvement), especially because he's getting help from a key ally…
Dr. Stephen Shin (Randall Park)
Only being added to the film during reshoots, Randall Park's Dr. Stephen Shin didn't exactly have an extensive role in the first Aquaman, but he definitely made an impression – living up to the expectations of his comic book counterpart. Dr. Shin is a scientist who is obsessed with the existence of Atlantis, and while he has a tremendously hard time convincing anybody that he is right, he also never wavers in his commitment to his theory. Unfortunately, his passion may take him to some pretty dark places in Aquaman 2, as he will seemingly be teaming up with Black Manta as part of the movie's plot.
We know about this team-up courtesy of the end credits scene in Aquaman, which primarily centered on Dr. Shin and Black Manta. Beginning in the follow-up to the battle in Sicily, Italy, Shin rescues the laser-shooting antagonist as he is injured and floating in the ocean, and brings him back to his private lab. After healing Manta, Shin proffers a deal: if the former promises to help prove the existence of Atlantis, the latter will do what he can to support the mission of vengeance against Aquaman.
Vulko (Willem Dafoe)
Played by Willem Dafoe, Vulko was introduced to audiences as one of the most influential people in the life of Arthur Curry, as he was the one who taught the future Aquaman about Atlantis when he was a kid, and even went as far as to actually train him to use his abilities. They were estranged for many years afterward, but through all that time Vulko remained loyal to the heir to the throne, and even when it potentially would cost him everything he did what he could to support Arthur through the events of Aquaman.
It's not currently known if Willem Dafoe will return to reprise his role as Vulko in Aquaman 2, but it's probably a safe bet. After all, he not only survived the events of the 2018 blockbuster, but he will also likely be a key advisor to Arthur as he tries to figure out what kind of king he is going to be. Hopefully we'll get more specifics as we get closer to the film getting made.
Orm (Patrick Wilson)
James Wan and Patrick Wilson clearly enjoy working together, as Aquaman was actually their fifth collaboration as director and actor – with the star playing the movie's principal antagonist, Orm. It was perhaps because of this relationship that the blockbuster made the decision to not kill off the former king of Atlantis, also known as Ocean Master, and instead have him imprisoned for his actions. Obviously this means that he's still alive in the DC Extended Universe, and could potentially be back for Aquaman 2, but exactly what his role would be is unclear at this point.
Based on the information mentioned above, it definitely seems like Black Manta and Dr. Stephen Shin are being set up as the primary villains in the sequel, but that doesn't mean that Orm won't have some kind of role to play in the action. Patrick Wilson has gone on the record saying that he doesn't expect that he will be the big bad of Aquaman 2, but also noted that he'd be happy to reprise the role should James Wan make the request. We'll just have to wait and see as more information about the blockbuster comes to light.
Where Can You Stream Other DC Films?
With Aquaman 2 still a relatively far way off, it's understandable if you have a bit of trouble keeping your excitement for the sequel contained. That being said, one of the best ways to satisfy your craving for King Of Atlantis action on the big screen is by watching previous Aquaman and DC movies! The even better news: it's really easy to do that. All DC Extended Universe titles – including the first Aquaman solo film – are currently available to stream on HBO Max. And if you don't have a subscription, you can always rent or purchase all of the titles digitally at all major outlets, or find them in Blu-ray or DVD form. As for all of the new blockbusters that are set to be released by the franchise between now and the release of the highly-anticipated sequel, check out our Upcoming DC Movies guide to see everything that's set up on the schedule.
We'll keep updating this feature as we get closer and closer to Aquaman 2, so be sure to occasionally come back, and stay tuned for all of the latest updates about the production here on CinemaBlend!
NJ native who calls LA home; lives in a Dreamatorium. A decade-plus CinemaBlend veteran; endlessly enthusiastic about the career he's dreamt of since seventh grade.
Your Daily Blend of Entertainment News
Thank you for signing up to CinemaBlend. You will receive a verification email shortly.
There was a problem. Please refresh the page and try again.