ESPN's 30 For 30 Blu-Ray Collection: Great Father's Day Gift For Sports Fans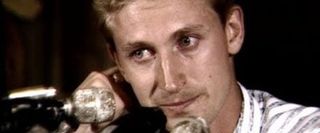 For those of us not willing to go the route of tube socks and underwear for our dad's/husband's Fathers Day gifts, Best Buy might actually come through in the clutch. Today, though minimally advertised, Best Buy exclusively released the ESPN sports documentary series 30 for 30 Collector's Set and Limited Edition Collector's Set on Blu-Ray. The sets, which feature thirty films by multiple directors that span topics and key moments in various sports, was initially released on DVD for the 2010 Holiday season.
Topics the 30 for 30 series covers include but are not limited to George Steinbrenners ownership of the New York Yankees, the major sports coverage going on during O.J. Simpson's run from the police, the Oilers trading Wayne Gretzy, the birth of big air in BMX riding, Len Bias and cocaine, Michael Jordan and his stint in Minor League Baseball, and Mike Tyson and Tupac Shakur's friendship.
The Collector's Set is awesome for two reasons. First, this will be the first time 30 for 30 is released on Blu-ray. The picture should be much clearer and some of the older footage used in the thirty films should be cleaned up. Secondly, at $99.95 for the whole series, buyers are paying a little over three dollars per movie, and will also get five hours of bonus footage. At $149.95, The Limited Edition Collectors Set is a bit more expensive, but will come with a collectible box, and an exclusive retro ESPN logo hat. Plus buyers will be getting all of the hours of bonus features that were initially released on 30 for 30 Volumes 1 and 2.
If you were already all over this gift during the holiday season and purchased Volume 1, which includes the first fifteen films in the series, Volume 2 hit stores a week ago. This set includes the latter fifteen films plus bonus footage. If you haven't purchased either half-series edition yet, I would suggest springing for the Collector's Edition. You'll get more for your money, and frankly, a set like this is the perfect reason to go Blu.
Your Daily Blend of Entertainment News
Thank you for signing up to CinemaBlend. You will receive a verification email shortly.
There was a problem. Please refresh the page and try again.