ESPN Stole Daniel Tosh's Web Redemption And He's Pissed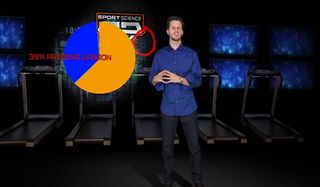 This week, Comedy Central's Tosh. O is not particularly pleased with another network. Viral video extraordinaire Daniel Tosh used his show as a platform to push ESPN's buttons, following an incident where the sports-related network blatantly ripped off his "Web Redemption" segment. Check it out, below.
In the video, Tosh.O plays a hilarious clip of a poor dude fumbling on some red carpet while singing before a hockey game. As host Daniel Tosh notes, you're probably thinking this would make for a great "Web Redemption." Unfortunately, ESPN had the same idea. ESPN created a new segment called "Awesome Video Segment," which is probably the worst title of all time. Then, they hired some young white dude to talk to the hockey tripper, Mark Donnelly. During ESPN's segment, the kid actually asks the guy if he is willing to "give it another shot," a phrase Tosh has been using for years.
Everyone reading this should be aware that Daniel Tosh can't trademark a catchphrase. A catchphrase is catchy for a reason, but if you are ESPN, you have to question the validity of basically ripping off the entire premise behind Tosh. O and then stealing the guy's catchphrase too. That's like stealing a kid's lunch money and then kicking him repeatedly just to rub it in.
Luckily, Daniel Tosh really gives it to them, calling ESPN "fucking hacks," and rightfully so. He then shares a segment during which he takes over ESPN's "Sport Science" premise and adds a .0 to the end. Check that beauty out.
He really let's ESPN have it in the clip, joking about the poor comedy habits and bad haircuts we get to see every day from the ESPN anchors, as well as how the network jerks off the SEC, spends too much time talking about LeBron, and constantly has to explain NFL crime. Oh yeah, and he also takes a minor potshot at the network's treatment of Bill Simmons.
Seriously, it's all much funnier coming from Tosh, so if you haven't clicked the video yet, what's stopping you?!
For years, Tosh.O has been bringing TV watchers some of the best videos on the Internet. While other video-related footage has existed on television before and after the start of Comedy Central's series, Daniel Tosh has made a name for himself with his unique brand of humor, and his web redemptions. It makes sense that he would be unhappy with another company blatantly and unapologetically ripping him off. Hopefully, ESPN will get the message.
Your Daily Blend of Entertainment News
Reality TV fan with a pinch of Disney fairy dust thrown in. Theme park junkie. If you've created a rom-com I've probably watched it.
Your Daily Blend of Entertainment News
Thank you for signing up to CinemaBlend. You will receive a verification email shortly.
There was a problem. Please refresh the page and try again.