Emily Rios From The Men Of A Certain Age To The Boys Of Friday Night Lights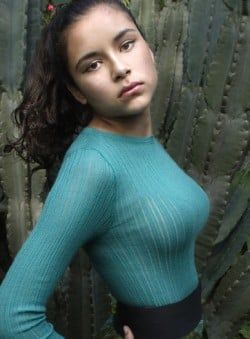 Emily Rios was one of the characters on Men of a Certain Age that I found myself drawn to, despite her limited appearances. She was little more than on of Joe's employees at the party supply store, but she really embodied that character and made me want to see more of her. I must not be alone in that, because she's just been signed to a recurring role on NBC/DirecTV's Friday Night Lights.
On Men she has a quiet sarcasm, but for FNL it looks like she'll be a little more animated. According to The Hollywood Reporter, she's been signed as a rebel goth girl named Epyck and you don't rock the name Epyck if you're a quiet sarcastic girl. She'll score at least six episodes for the role, but hopefully will be free to continue to torment Joe on the next season of Men of a Certain Age.
Not to be left out, Criminal Minds went out and found a pretty girl of their own. Austin Highsmith recently scored her first multi-episode character arc, according to IMDb when she portrayed Katie on Big Love. Of course, she'll probably just play a victim, or a witness of some horrible crime, but at least she keeps finding high profile work.
Maybe, if Rios starts hanging around high school football teams more and more, there'll be an opening at a certain party store for a pleasant-looking young actress who doesn't mind the off-chance of seeing Ray Romano in his boxer shorts at his desk.
Your Daily Blend of Entertainment News