Entourage's Emmanuelle Chriqui To Recur On The Mentalist, Kenny Johnson Also Guest Stars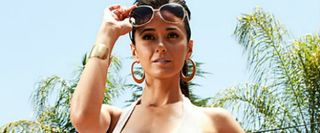 What's that thing about spring and love in the air? Well, it seems CBS is taking that seasonal expression to heart, or at least to casting The Mentalist for May sweeps and the season finale. To add a romantic boost to close out the year, The Shield's Kenny Johnson and Entourage's Emmanuelle Chriqui are both set to make guest appearances to close out Season 4 of the quirky police procedural with a serialized red-herring. You know, because of Red John. Wouldn't it be something if Red John carried a Yellow Umbrella and turned out to be the Mother in CBS' How I Met Your Mother? Call the episode "A Clockwork Orange." Wait.
Spoilers ahead!
According to TV Guide Kenny Johnson will appear in just one episode as a former flame of Robin Tunney's Detective Lisbon. Johnson's character, named Greg Taybeck, is Lisbon's high-school sweetheart and former fiancé and he also somehow features heavily in that week's case. Probably a case of the lonelies, sorry. TV Guide managed to catch up with creator Bruno Heller who noted that the reunion will force the determined Detective to stop and reflect on her life choices, "the paths not taken." Johnson's one-off episode, titled "So Long, and Thanks for All the Red Snapper," (a nasty sounding pun on Douglas Adams' Hitchhiker series) will air May 3.
And it wouldn't be fair for Lisbon to get a love interest (or complication) and Simon Baker's Patrick Jane to just sit on the sidelines, so CBS has lined up an attractive guest star to distract the lead's investigative eye. TVLine reports that Entourage alum Emmanuelle Chriqui is joining The Mentalist for a significant recurring role and love interest for Jane. Chriqui, the gorgeous actress from Montreal, will play Loraliei Martins, who is described as "a mysterious new woman in Jane's life who may be too good to be true." Aren't they all? She makes her debut in the May 17 finale, "The Crimson Hat" before returning for 'at least' five episodes in the fifth season. I imagine the season finale will also feature our aforementioned serialized red-herring named John so I wonder just how Chriqui's recurring character will fit into that storyline.
The series is not airing a new episode in its usual time slot this evening, as the modern day retelling of Sherlock Holmes (wait, isn't CBS doing that too?) is going on a brief two-week break before the final four episodes take us to the end of Season 4. The Mentalist returns with new episodes on Thursday, April 26 at 10 p.m. ET on CBS. It stars Simon Baker and Robin Tunney. It was created by Bruno Heller.
Your Daily Blend of Entertainment News
Your Daily Blend of Entertainment News
Thank you for signing up to CinemaBlend. You will receive a verification email shortly.
There was a problem. Please refresh the page and try again.