Every TV Show Starring A Former Friends Cast Member, Ranked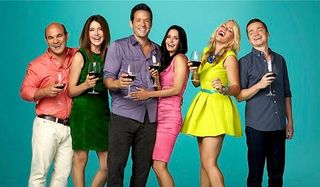 Even in the current age of fame, when seemingly anyone can become a celebrity for a mildly sustainable amount of time, it's rare for a TV show's entire cast to hold onto their place in the spotlight. But then, few casts have ever been quite like the Friends sextet, and though none of them will likely ever eclipse those Must See TV glory days in the years after the show finished airing in 2004, it hasn't stopped anyone from trying.
Here are all the shows that Friends cast members put out in the years after Friends ended, ranked by how good and memorable they all are/were. Only Jennifer Aniston stayed away from any major small screen projects after the NBC hit, but the other five actors are on full display here. And let's start with the worst one of all, which just so happened to be a Friends spinoff.
11. Joey
One of the reasons Friends worked as well as it did was because each of the central (perk) characters' personalities worked in combination with everyone else. But put a series-sized microscope on one of them from the equation, in this case Matt LeBlanc's Joey Tribbiani, and it quickly became obvious that not even one-sixth of the magic could be replicated with the rarely funny Joey. The show centered on the actor's move to Los Angeles, a concept ripe with potential, but without the Friends creators putting this together behind the scenes, this short-lived sitcom saw its ratings go from fantastic to awful in just two seasons (with some episodes going unaired). Ten years after its cancellation, Joey is mostly memorable for cast members like Drea de Matteo and Jennifer Coolidge, and not for its titular sandwich-lover.
Friends Actors Who Cameoed: None
10. The Odd Couple
Let's be real here. The world did not need another version of The Odd Couple, as the basic premise already got its best versions on the stage, the big screen and the small screen. (Not to mention the 1980s remake.) There is definite appeal in Matthew Perry and Reno 911's Thomas Lennon as the polar opposite duo the name refers to, as well as the rest of the talented cast, which includes Yvette Nicole Brown, Wendell Pierce, Lauren Graham and more. But it's like the jokes and the scenarios were just rejected scripts from the 1970 series, recently removed from a time capsule on the CBS lot. It's not a great show, but it's admittedly not the most painful slice of entertainment on TV.
Friends Actors Who Cameoed: None
9. Dirt
Back in 2006, House of Lies creator Matthew Carnahan got together with Courteney Cox and David Arquette to put together a glossed-up sleazefest called Dirt for FX, which centered on a tabloid editor and a problematic photographer as they find the celebrity stories most worth exploiting, all while getting into a fair share of sex, drugs and…more of both of those. It wasn't quite the magnificently guilty pleasure that it could have been, but the show did find better footing in Season 2, only to have the Writer's Strike, a sliced episode order and a timeslot change effectively destroy its chances of making it to Season 3.
Friends Actors Who Cameoed: Jennifer Aniston
8. Mr. Sunshine
Not only was Matthew Perry front and center of this short-lived 2011 ABC comedy, but he was also one of the creators, along with The Goldbergs writers Marc Firek and Alex Barnow. In Mr. Sunshine, Perry was the trouble-slammed manager of a lower-tier San Diego sports arena, where all manner of quirky incidents threaten to unravel everything. It was silly and a decent follow-up to the similarly canceled Better Off Ted, but the network didn't really give it a chance to breathe, axing it due to not-that-low ratings after its 13-episode season. Did they not realize that Allison Janney was Perry's boss in this? Did they not know that Allison Janney should never be forced off the air under any circumstances?
Friends Actors Who Cameoed: None
7. Web Therapy
Originating as series of web shorts that was expanded into full-length episodes for Showtime, Web Therapy was the brainchild of Lisa Kudrow and Don Roos and offered viewers four seasons to delve into the life and occupation of Kudrow's Fiona Wallace, a therapist who conceives a computer-based form of therapy with extremely short session times. As you might imagine, that variation leads to uncomfortable situations with both Fiona's husband Kip (played by one-half of the current Firestorm Victor Garber), her mother (Lily Tomlin) and a whole host of celebrities. The computer screen P.O.V. gimmick worked more often than it didn't, but was still a limitation more than an advantage, and the comedic beats became pretty familiar as the seasons went on. Still, that many top-notch guest stars is hard to rail against.
Friends Actors Who Cameoed: Courteney Cox, Matt LeBlanc, Matthew Perry, David Schwimmer
6. Go On
Another entry in the "single-season Matthew Perry projects," NBC's 2012 comedy Go On was another one of the actor's projects that was pretty great as is, but could have been can't-miss TV had it lasted longer. Perry played a sportscaster who is stuck in an emotional rut after his wife dies, and he's advised to join a support group that happens to be filled with some wildly offbeat personalities. Though Go On would have probably worked a lot better on a cable network where the darker and more cynical sides of the humor could have been inflated, it was still a clever take on humanity's daily problems that managed to leave you feeling better about yourself. It helps that the cast was filled with hilarious people like Seth Morris, Brett Gelman, Sarah Baker, John Cho, Suzy Nakamura and more.
Friends Actors Who Cameoed: Courteney Cox
5. Episodes
With the Joey years behind him, Matt LeBlanc found a much more successful and suitable vehicle for his talents in the Showtime comedy Episodes, which was co-created by Friends co-creator David Crane. With Season 5 on the way, Episodes has been quite successful, serving as one of the premium cabler's longest-running comedies. A British/American co-production, Episodes centers on LeBlanc as a heightened version of himself working with two English TV writers on an American remake of their hit series, and all of the problems that can possibly arise from such a situation. It didn't seem like a concept that could stick around for this long when it premiered in 2011, but the satirical shots at Hollywood just keep on coming. And anytime you get Chris Diamantopoulos acting like a self-important nutjob, you know the laughs are coming.
Friends Actors Who Cameoed: David Schwimmer
4. Cougar Town
The longest-running post-Friends project of them all, Cougar Town brought Courteney Cox back to comedy, and it was absolutely the right place for her to be, although it took a little time to hit its stride. Co-created by Scrubs' Bill Lawrence, the female-heavy series utilized its talented cast (including Christa Miller, Busy Phillipps and Josh Hopkins) to tell the dysfunctional story of Cox's divorced mother and her wine-slurping friends as they reflect on getting older and how that is affecting their lives. Though it debuted on ABC in 2009 and earned decent ratings, Cougar Town moved to TBS after Season 3 and kept the snark going until bowing out with Season 6. Unlike some of Matthew Perry's shows, though, Cougar Town wouldn't be so highly regarded had it only been one season.
Friends Actors Who Cameoed: Jennifer Aniston, Lisa Kudrow, Matthew Perry
3. Studio 60 on the Sunset Strip
Matthew Perry's first show after Friends went off the air, Studio 60 on the Sunset Strip was somehow one of two shows debuting on NBC in the fall of 2006 that offered a behind-the-scenes look at a network sketch comedy. The other show, 30 Rock, went on to air for seven seasons, while Studio 60 never even got a sophomore crack at it, even with the Hollywood cache of showrunner Tommy Schlamme and creator Aaron Sorkin, with his signature dialogue style wholly intact. With cast members like Bradley Whitford, Amanda Peet, Sarah Paulson and more, the drama was heady and put forth one of the more interesting and enlightening looks at working in television that wasn't drowning in self-awareness and cynicism. And it remains arguably the most non-Chandlerish TV role of Perry's career.
Friends Actors Who Cameoed: None
2. The People v. O.J. Simpson: American Crime Story
I will be the first to admit that I followed the initial People v. O.J. Simpson announcement with a low groan that vibrated every window in my house. Lo and behold, this first entry in the Ryan Murphy-produced anthology series ended up being one of the most riveting dramas currently on TV. David Schwimmer surprisingly made this his first TV lead after all those years as Ross Gellar, and he would win the hypothetical Worrywart Award for his winning performance as the Simpson family friend Robert Kardashian. And he's just one piece of an extremely captivating ensemble that also boasts Cuba Gooding, Jr., John Travolta, Sarah Paulson and Courtney B. Vance, to name a few. The flip side of the recent rise in true crime's popularity, The People v. O.J. Simpson excels in subjectively dramatizing one of the most notable court cases in U.S. history.
Friends Actors Who Cameoed: None
1. The Comeback
With The Comeback's optimism-gushing Valerie Cherish, Lisa Kudrow is the only Friends star who managed to – at least in my eyes – develop a character that was easily as memorable as her former sitcom persona, in this case Phoebe Buffet. Created by Kudrow and Michael Patrick King and debuting on HBO in 2005, The Comeback is yet another list entry that satirized the entertainment industry, with reality TV sitting in the crosshairs. A former sitcom star whose promising new role could potentially relaunch her career, Valerie is also building her brand through a docu-series, with cameras following her around everywhere and capturing one endlessly uncomfortable situation after another as she comes to the realization that nobody really sees her as she sees herself. The show was canceled after 13 episodes, but returned to viewers for Season 2 in 2015 with an even sharper and more reflective take on being a modern celebrity. If there was a TV Messiah, he or she would guarantee that Season 3 of The Comeback will happen at some point soon, but we're not looking a gift cupcake costume in the mouth.
Friends Actors Who Cameoed: None
This poll is no longer available.
Your Daily Blend of Entertainment News
Assistant Managing Editor
Nick is a Cajun Country native, and is often asked why he doesn't sound like that's the case. His love for his wife and daughters is almost equaled by his love of gasp-for-breath laughter and gasp-for-breath horror. A lifetime spent in the vicinity of a television screen led to his current dream job, as well as his knowledge of too many TV themes and ad jingles.