FX May Reshoot Powers Pilot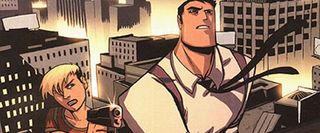 As a fan of the long-running comic series by Brian Michael Bendis, I was really disappointed when FX didn't pick up the series last year after shooting a pilot starring Jason Patric and Lucy Punch. Last November FX said they were going to "retool" the Powers pilot. When no more news was forthcoming, I'd pretty much written Powers off as dead. Now, however, there seems to be a spark or two in the darkness, because according to FX president John Landgraf, Powers may still have a chance.
IGN spoke to Landgraf at the Television Critics Association press tour, where Landgraf broke the news that the Powers show is still being developed, and may even reshoot the pilot, with or without any of the original cast members. Even more exciting is that FX had TV vet Chic Elgee (The Walking Dead, Dexter), who wrote the original pilot, pen three additional scripts. That doesn't sound like the actions of a network that has written the project off. "So we are going to end up having four Powers scripts," said Landgraf. "And if we elect to move forward, yeah, I think we will just go back and reshoot the pilot from scratch, with a new cast in all probability."
Powers is set in a world where super-heroes and super-villains are an everyday reality, and Detectives Christian Walker and Deena Pilgrim are two cops tasked with enforcing the law in a city where many people don't even obey the law of gravity. The original pilot had Jason Patric as Walker, Lucy Punch as Deena, Vinnie Jones as gangster Johnny Royale, and Lost alum Titus Welliver as an Iron Man-style superhero named Triphammer. Honestly, the casting of the two leads didn't wow me, especially Lucy Punch. I've mainly seen her do comedy, so who knows, maybe she was great in the role, but it definitely seemed 100% wrong at first blush. It sounds like, if any of the cast returns for the new pilot, Jason Patric is the most likely carryover...but that's not at all a sure thing. As Landgraf explained:
I'm definitely keeping my fingers crossed that this one will eventually get the green light, but I'm also glad they're working to get the pilot up to code. The last thing anybody wants to see is a crappy Powers pilot that would then salt the earth for any future adaptations of the comic series, at least for a while.
Your Daily Blend of Entertainment News
Your Daily Blend of Entertainment News
Thank you for signing up to CinemaBlend. You will receive a verification email shortly.
There was a problem. Please refresh the page and try again.