Fargo Season 2 Will Look And Feel Totally Different, According To Series Creator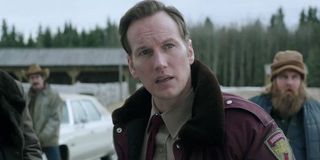 With the current trend of movie to TV adaptations, Fargo certainly stands out as one of the better. Its unique take set in the same universe as the 1996 Coen Brothers movie seamlessly wove a number of references along with a minor subplot to connect it to the film, but in a fresh new story with talented faces. Now as the show gears up for the release of Season 2, series creator Noah Hawley has shed some light on his approach, and how it differs from the first season. Set in a totally different time period, Hawley uses this new setting to his advantage, playing with the style and emotion in the story.
During a presentation at the Television Critics Association (via Variety), Hawley touched upon his 'reinvention' of the story, and how he essentially had to head back to a totally new drawing board. He explained that while it is a complete reinvention and a completely new story, there will be some recognizable aspects:
Not only will the story and ensemble change this time around, but Noah Hawley also explained that the style itself is going to change a bit too. With a bigger cast this time around, Hawley says they made use of split screens and freezes. Heading back to the 70s, it was almost natural he'd find his way towards "'70s filmmaking paradigms". The characters of the story are also going through a different set of emotions as Hawley's goal was to reflect emotions running through a pre-Ronald Reagan era (though Reagan is said to pop up at some point), and using it as the backdrop.
Season 2 will go back in time to 1979 with the focus on police officer Lou Solverson who we've seen in Season 1. In Season 1 Lou Solverson portrayed by Keith Carradine played the father to one of the main protagonists, also a police officer Deputy Molly Solverson played by Allison Tolman. There were a few times Lou recalled his former days as a police officer, but for the most part, we were left in the dark as to why he had retired to become the diner owner we now know him as. Well now, Season 2 will feature a younger Lou portrayed by Patrick Wilson, who along with his partner Hank played by Ted Danson are investigating a shooting at the Sioux Falls diner. Along with the two officers of the law, Season 2 features an big ensemble cast including Kirsten Dunst, Nick Offerman, Jesse Plemons, Bokeem Woodbine, Jean Smart and Brad Garrett.
Hawley acknowledges the critical acclaim his series was given for Season 1 (earning 18 Emmy nominations is an incredible feat) but for him, it is less about winning more awards, and more about executing the story as best he can. Fargo Season 2 premieres on October 12 at 10 p.m. on FX.
Your Daily Blend of Entertainment News