Favorite Male TV Characters Of 2010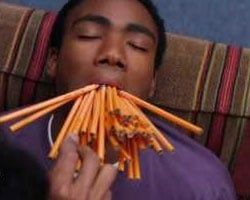 Whether they were saving the day, solving or fighting crime, making us laugh, making us gasp or delivering one great moment after another, 2010 had no shortage of great male characters.
We at Television Blend had a tough time narrowing down the list of our favorite male characters of 2010. Whether they be funny, dramatic or just plain badass, here they are in no particular order.
Michael Weston, Burn Notice (Jeffrey Donovan)
It's the coolest, slickest show on TV for a reason, and Michael is the reason. Methodical, completely professional, and with a wry, sardonic sense of humor, Michael seems to effortlessly juggle serious espionage entanglements with his myriad of interesting relationships, not the least of which include his trigger-happy on-again off-again girlfriend Fiona (Gabrielle Anwar) and his no-nonsense, chain-smoking mom (Sharon Gless). Plus, Michael's voiceover narratives give the show that much more flair.
James "Jimmy" Darmody - Boardwalk Empire (Michael Pitt)
Princeton dropout. War hero. Troubled soul. Jimmy oozes life potential, and we get to see this bright young man come back to Atlantic City and make all the wrong life decisions. His loss is our gain, however, as Jimmy exorcises his war demons through the violent life of organized crime, becoming Nucky's muscle and a cold-blooded killer to boot. Ambitious and brooding, Jimmy steals scenes with his unexpected tenderness, morose humor, and regretless violence. Boardwalk Empire is at its best when Jimmy's at his unflinching worst. The sky's the limit for Jimmy – he just needs to be more patient and make sure he's on the winning team when the dominos fall.
Shawn and Gus - Psych (James Rodey, Dule Hill)
Whether they're getting trapped on a ferry, narrowly avoiding a drive-in shootout, or trying their hand at youth karate, Santa Barbara's favorite psuedo detectives are always in it together. I'm not shy about my love for Psych, and this was a great year for the show's inseparable dynamic duo. Gus proved he's much more than a victim of Shawn's aptitude for nicknames, when he laced up his tap shoes and helped bring in 'da funk with Det. Lassiter (as a side note- Dule Hill is apparently a trained performer, and good friends with tap protégé Savion Glover- who knew?!) Shawn--always searching for pop culture references-- met his true match in this season's Twin Peaks homage, "Dual Spires," in which the town's residents remained impervious to his quips and comments (ultimately, he resorted to using "Everwood" as his springboard-- the town's only television indulgence.) Thankfully, the show is just a few episodes into season 5, part II, so 2011 is sure to bring even more Shawn and Gus gems.
Troy Barnes - Community (Donald Glover)
Though it was tempting to put Troy on this list along with his partner-in-crime Abed, whose buddy pairing is perhaps the best on TV, Troy is an outstanding character on his own merits. Thoughout much of 2010, Troy struggles against his own image as he finds he isn't what the prototypical "jock" should be. He builds blanket forts. He takes interpretive dance. He dresses up like Ripley for Halloweeen. But by the end of the year, Troy is comfortable with who he is and the friends he has. Troy is also so much fun to watch because of his unwavering sincerity in every occasion; whether he's debating the existence of cat penises, enthusiastically greeting old friends after an hour apart, or preparing to see a puppy parade, Troy puts his heart and soul into everything he does. He is never insidious or dishonest, and that's why we love him.
Hank and Britt - Terriers (Donal Logue, Michael Raymond-James)
One's a former cop; the other's a former criminal. This dynamic could have made for an extremely cliché TV duo, however that was not to be the case for Hank and Britt. While they came from different sides of the law, they respected each other and the common ground on which they stood, which came through in their friendship as well as their working relationship. The teamed up private detectives had more in common than not and their comfortable, almost brotherly friendship is part of what made Terriers such a humorous, grounded series (may it rest in peace or live on in DVD).
Walter Bishop, Fringe (John Noble)
Part loving father, part mad scientist, Dr. Bishop is what gives Fringe its edge. Mixing intelligence, paternal charm and unconventional craziness with a very endearing sense of vulnerability and innocence, Walter is the main reason that I tune in to this very undervalued show. And, just to clarify, I refer to the Walter Bishop from our Universe, not the stern, humorless, button-down version of him from the "other side" (dubbed "Walternate").
Ron Donald - Party Down (Ken Marino)
In the realm of zany TV bosses, Ron Donald is one of the least impressive. He's much less spontaneous than, say, Michael Scott from The Office. He's also not as likeable, not as innocent, and a bit more self-aware. But it's because of his character flaws that Ron seems like more of a real person, and thus his triumphs and defeats are all the more personal. Ron clings to his job in a manner so pathetic that you really can't help but root for him. And at the end of Season 2, when he finally seems to have met a woman he's compatible with, it's nice to see the perennial loser get a win at last.
Phil Dunphy - Modern Family (Ty Burrell)
Modern Family toes the line between outright slapstick and a realistic depiction of family issues, and no one embodies that balance better than the goofy, obnoxious, caring and endearing Phil. He's a galumphing manchild celebrating his birthday alone at the batting cages in "Game Changer," but he also knows exactly how to comfort his heartbroken daughter in "Mother Tucker." Hell, he did it all in a single scene in "Manny Get Your Gun," bursting into tears while driving a car when his teen daughters tell him they don't want to do family camp anymore. They cry with him, he cries harder, and we get a tender family moment and a ridiculous, hilarious scene all at the same time. Every Modern Family character is crucial to the show's success, but Phil is the one I look forward to seeing most week after week.
Jack Shephard - Lost (Matthew Fox)
It was a tough six years on and off the island for Jack Shephard, who started off as the Flight 815 survivors' de facto, reluctant hero and soon found himself constantly overshadowed by more colorful and morally complicated side characters. But just when we thought we were over Jack's daddy issues and constant squabbling about who had the better plan, Lost wound its way to its touchy-feely conclusion, and Jack the Whiny Leader turned into Jack the Hero once again. Turning, finally, into the Man of Faith seeking a lesson from the Island, Jack didn't just escort his fellow castaways to safety once and for all, but sacrificed himself not just on their behalf, but to save the powerful island he had misunderstood for so long. I imagine Jack was just as surprised as I was to realize that he, after years of trying to beat the island, was the hero it was waiting for.
Paul - 30 Rock (Will Forte)
Jenna Maroney's love life has always been used well as a punchline on 30 Rock-- her threeway with Roseanne and Tom Arnold, her relationship with her stalker-- but even though Paul was probably the craziest person she had dated, a drag queen who dressed up as Jenna, their relationship turned into something really sweet in addition to being hilarious. I never got over the sight gag of seeing them kiss or wear the same outfit, but I also felt terrible for Jenna when she broke things off, and weirdly warm and fuzzy when they sang that Christmas duet dressed as Natalie Portman in Black Swan (him) and former Philadelphia Eagles football player Lynn Swann (Jenna, in blackface). Played by Will Forte as perhaps the most straightforward and normal drag queen in TV history, Paul is the perfect guy for narcissistic Jenna because, well, he's her.
Contributing writers: Mikela Floyd, Patrick Hodges, Katey Rich, Drew Stewart, Travis Triplett, Kelly West.
CLICK HERE to view our list of Favorite Female TV Characters
Your Daily Blend of Entertainment News
Thank you for signing up to CinemaBlend. You will receive a verification email shortly.
There was a problem. Please refresh the page and try again.