Final NCIS Cast Members Perrette, Murray, And Weatherly Locked In For Season 10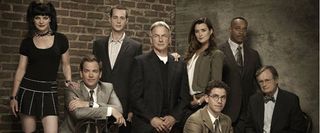 Back in April, NCIS star David McCallum decided he was up for a tenth season of the hit procedural. Many other contract renewals were put into place during the months following, but three of the show's stars were staying mum about whether or not they would return, including Sean Murray, Pauley Perrette, and Michael Weatherly, who all play hit characters on the CBS show. As, it turns out, after multiple negotiations, 'mum' is no longer the word.
Productions is set to begin on Season 10 of NCIS next week and because of this, fans will be happy to hear, Murray, Perrette, and Weatherly have all finalized plans to return. According to Deadline, the lengthy contract negotiations began after CBS studios decided to pursue each of the actors separately (and, assumedly,, for different amounts of money). Luckily, each deal worked out in the nick of time and Murray, Perrette, and Weatherly will all return for not just one year, but two years.
The news is great for NCIS, which will likely stay stable in the ratings due to the return of all the prominent and interesting characters on the show, including executive producer and lead Mark Harmon, who decided he was staying on board quite a long while ago. Without Harmon, and Perrette especially, I'm uncertain NCIS would have the same staying power or ease-of-recognition, and I'm certain producers are all breathing a little easier now the deals are done and work can get started on the newest installment of the series.
Fans will be able to catch CBS' NCIS on Tuesdays at 9 p.m. ET this fall.
Your Daily Blend of Entertainment News
Your Daily Blend of Entertainment News
Thank you for signing up to CinemaBlend. You will receive a verification email shortly.
There was a problem. Please refresh the page and try again.