Finally, A List Of Extras For Shameless: The Complete First Season Blu-Ray Release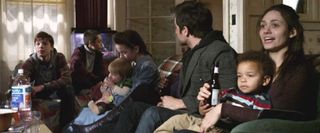 Those of us gearing up for Season 2 of Showtime's Shameless will have a little something to tide us over before its January 8 release date. TV Blend already dropped the news that Season 1 Blu-Ray and DVD copies of the hit freshman drama will hit the market on December 27, just past the holidays. Which will give those of us who haven't yet watched the Gallaghers mucking up or alternatively sometimes fixing each others lives two weeks to get on it before Season 2 begins.
To entice audiences a little further, we have information on bonus materials and box art. Shameless: The Complete First Season will come with a behind-the-scenes documentary delving into how such an uncomfortably entertaining show is written. Creator Paul Abbot and Executive Producer John Wells will be involved in the documentary, as well as a second featurette discussing choosing actors for the various roles. A third featurette "A Shameless Discussion About Sex," is pretty self-explanatory. Commentary will be included for two of the Season One episodes and multiple deleted scenes will also be available. Rounding out the bonus features will be a special sneak peak at Season 2 of the show.
If you haven't caught any previews of the upcoming season of Shameless, there looks to be some infighting, some longing for lost love, some other fighting, and a very gregarious Frank pretending to be humble and homeless for the benefit of a few dollars.
You can check out the box art for Shameless: The Complete First Season, below.
Your Daily Blend of Entertainment News
Your Daily Blend of Entertainment News
Thank you for signing up to CinemaBlend. You will receive a verification email shortly.
There was a problem. Please refresh the page and try again.