Five Reasons To Watch Covert Affairs On USA This Week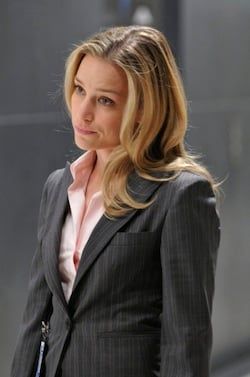 Set to premiere this Tuesday is USA's latest spy-drama Covert Affairs and based on the pilot episode, it seems USA has another winner on its hands as they add Annie Walker to their growing list of exciting characters.
I had a chance to check out the series premiere and below this description for the series are five reasons why I think you might want to check out Covert Affairs when it premieres on USA on Tuesday night.
Covert Affairs follows Annie Walker (Piper Perabo), a CIA agent who is pulled from training to help the CIA with a mission. Her early graduation is supposedly due to her language skills but by the end of the premiere, we come to learn that there's more to Annie Walker's involvement in the CIA than even she realizes.
Along with Perabo (Coyote Ugly), Covert Affairs features a number of familiar faces. Ugly Betty's Christopher Gorham plays Auggie, the blind but capable and flirtatious former CIA military intelligence agent who now works at a computer and lends a hand and a smile to Annie as she gets acclimated with life at the agency. Peter Gallagher (American Beauty, The O.C.) is Arthur Campbell, the director of Clandestine Services for the CIA. When he's not trying to figure out who is leaking information about the CIA to the press, he's dealing with Joan (Kari Matchett, Invasion), the head of the CIA's Domestic Protection Division and also, his wife. As Joan believes Arthur is being unfaithful, she's using the "perks" of working at the CIA to help her figure out who he's cheating on her with. Insert lots of emotional drama in the workplace here.
That's the general premise of the series. If that's not enough to sell you on the show, here are five reasons why Covert Affairs is worth checking out…
Annie Walker: The next Sydney Bristow?
Piper Perabo has managed to bring both strength and vulnerability to the role of Annie Walker. When we see Walker on her first assignment, it's clear that she's a rookie but also evident that she's capable of handling herself in a pinch. As a fan of Alias, Sydney Bristow (played by Jennifer Garner) has pretty much set the bar for female spies on TV for me. With that in mind, Perabo does an admirable job with the role as Annie appears to be yet another fantastic character on USA as well as another great fictional female spy on television.
Action, romance, mystery, drama, comedy… what else do you need?
Much like some of USA's other series (Burn Notice, White Collar, In Plain Sight), Covert Affairs appears to have a little of everything and like the other series, also seems to have a handle on how to pace itself without jumping all over the map as far as the mood goes. One minute, we're on the edge of our seats as bullets are flying and Annie nearly gets killed during her first mission and the next, we're laughing at the way she's handling herself when pretending to be a professional escort.
Christopher Gorham is adorable as Auggie.
Putting aside the fact that he's blind, which only serves to make him more interesting as a character, Auggie adds to the lighter side of the show as he offers a friendly arm to Annie when she first arrives. Gorham was a great casting choice here as he's cute in a handsome but non-threatening, trustworthy kind of way. Auggie's not quite the geeky, shy guy we saw in Gorham's role as Henry in Ugly Betty but if you liked him in the ABC series, you'll love him in Covert Affairs.
Annie's living a double life…
Annie's sister Danielle, played by Anne Dudek (House, Mad Men) doesn't know that she's in the CIA. So Annie has to keep her job and all of the stress that comes with it to herself as Danielle thinks she works at the Smithsonian and is in desperate need of a boyfriend. While Annie is single and technically on the market, we learn early on that she's still not over her last romantic relationship.
Speaking of romantic relationships…
There is romance! Of course there's romance. I won't get too specific with this aspect of the series because I really think the story is worth seeing play out as it does in the premiere episode. What I will say is that they've done a nice job of tying a romantic story arc into Annie's professional life and I'm very interested in seeing how this story unfolds as the season plays out.
Covert Affairs premieres Tuesday, July 13 at 10/9c on USA.
For more information, check out USA's Covert Affairs website here.
Your Daily Blend of Entertainment News
Assistant Managing Editor
Kelly joined CinemaBlend as a freelance TV news writer in 2006 and went on to serve as the site's TV Editor before moving over to other roles on the site. At present, she's an Assistant Managing Editor who spends much of her time brainstorming and editing feature content on the site.