Legends of Tomorrow Has Added Its Main Villain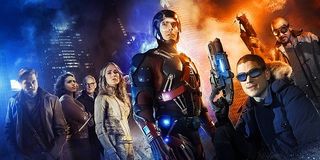 Although the CW series Legends of Tomorrow has cast all of its primary superheroes, the identity of the actor playing Vandal Savage has been a mystery. Although the main antagonist was mentioned in the show's trailer, he remained unseen while we saw the protagonists tangle with his minions. Well, the villain can finally step out from the shadows, as it's been announced that Danish actor Casper Crump will be playing him.
The CW announced today that Crump will debut as Savage in the Arrow/The Flash crossover that will air later this year. Savage is the second character who will make his DC TV universe debut in the crossover, following Falk Hentschel's Hawkman. This version of Savage is described as "having spent the past 6,000 years moving like a virulent disease through history," and his manipulation of various despots and dictators have all been key steps towards his goal of world domination.
In the comics, Vandal Savage was a caveman who was exposed to radiation from a mysterious meteorite that increased his intelligence and made him immortal. Savage claims to have been various detested figures from throughout history, like Julius Caesar and Ghengis Khan, but over the last several hundred years he has opted to work behind the scenes since his lengthy life tenure doesn't prevent him from being killed. In the present-day, he has made a name for himself as one of the Justice League's greatest enemies, and his most recent comic book appearances include Demon Knights and Trinity of Sin: Pandora.
Legends of Tomorrow will see its heroes fighting the Savage at various points in time, and while he hasn't lived on Earth for as long as his comic book counterpart, the above description implies that he is just as dangerous, if not more so. Savage previously appeared in animated projects like Justice League, Justice League: Doom and Young Justice, and a heavily adapted version of the character named Dr. Curtis Knox was played by Dean Cain on Smallville.
As for Crump, unless you live in Europe, you're unlikely to be familiar with his work. His resume includes TV shows like Park Road, Lykke and Tvillingerne & Julemanden. He will be seen next year in Warner Bros' Tarzan film playing Captain Kerchover. While we'll have to wait until the crossover (or at least another Legends of Tomorrow trailer) to get a sense of what his version of Vandal Savage will be like, the fact that Crump looks almost exactly like Savage from the comic books is already a good sign that we'll get a great version of the character antagonizing the DC heroes.
Legends of Tomorrow will debut sometime in 2016 on The CW. Here's what else is coming up this fall.
Your Daily Blend of Entertainment News
Connoisseur of Marvel, DC, Star Wars, John Wick, MonsterVerse and Doctor Who lore. He's aware he looks like Harry Potter and Clark Kent.