The Flash: How Earth 2 Will Affect Barry And Iris' Relationship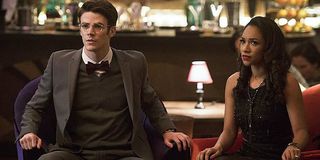 No matter how hard you try, you can't outrun destiny. Amid all of his romantic entanglements over the course of The Flash's first two seasons, Barry Allen's heart continues to truly belong to his surrogate sister Iris West. Audiences have watched their relationship develop as the show has progressed, but now it seems that Barry's recent incursion to Earth 2 will have a major impact on the nature of their feelings for one another.
Actress Candice Patton explained to TVLine how recent events in the alternate universe will forever change her dynamic with Barry back home:
The more they hear about how they will end up together, the more they start to believe that it must be true. In a way, it sort of gets back to how Barry described the Earth 2 doppelgangers of his loved ones: no matter what Earth it is, they are the same people. Iris knows that she has a future with Barry on Earth One, and on Earth Two they have become a happily married couple. They've tried to deny or bury their feelings for one another, but at the end of the day, they're starting to see that fate is unavoidable
So much is different on Earth 2, from the stunted relationship between Barry and Joe to the fact that Floyd Lawton is not only alive, but a loyal officer of the Central City Police Department who can't shoot worth a damn. Despite the fact that everything on this new Earth looks and feels so utterly different from what our heroes have become used to, the relationship between Barry and Iris somehow remains consistent across time and space.
All that being said, none of this means we will see our Barry and Iris get together any time soon. The Flash has done an exemplary job of planting seeds for potential storylines without committing to fleshing any of them out in the near future. We've seen instances of this before; for example, the Season 1 finale provided glimpses of the Flash Museum and Barry Allen behind bars. These plot points both have precedents in the comics, but won't necessary be addressed this season, or potentially even next season. Although it's a show revolving around the fastest man alive, The Flash has taken its sweet time allowing the romance between Barry and Iris to flourish, and we have to say it's been better because of its restraint.
We will keep you up to date on the latest and greatest Flash news as it becomes available to us. This week's episode will see Earth 2 Barry and Iris attempting to rescue Earth 1 Barry from the clutches of Zoom, so we can easily expect to see their dynamic explored even further. The Flash airs Tuesday night at 8 p.m. ET on The CW.
Your Daily Blend of Entertainment News
Originally from Connecticut, Conner grew up in San Diego and graduated from Chapman University in 2014. He now lives in Los Angeles working in and around the entertainment industry and can mostly be found binging horror movies and chugging coffee.