Arrow DCU Tie-Ins And Easter Eggs: Season 2, Episode 9 - Three Ghosts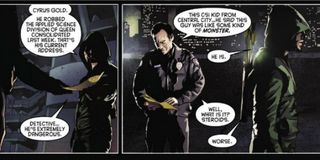 It's probably safe to assume that Arrow's mid-season finale, "Three Ghosts," was an homage to Charles Dickens' "A Christmas Carol" and it makes perfect sense for the CW's superhero series to look to the famous holiday tale for inspiration given both the time of year and their shared anti-capitlist themes. Ebenezer Scrooge, you have failed this city! On top of adding some seasonal flair and reinforcing the show's 'occupy' point of view, "Three Ghosts" was also the second-half of a two-parter picking up right where "The Scientist" left off with the newly introduced Barry Allen brought, well, abducted into the inner circle.
Not to get too far ahead of myself but was anyone expecting to actually see Flash's origin? I had an inkling that it might be the big bang before the break, however, when it happened near the end of the episode I was still kind of in shock. Pun intended. All this time, Arrow has been teasing the opening of S.T.A.R. Labs' new particle accelerator in Central City and for once (probably the beginning of a trend) Barry was on time. Well, not to see it in person, instead the assistant crime scene investigator got to witness the malfunction from the lab. You know, where he keeps all his dangerous chemicals and some super conductive chains.
I'm not going to get too worked up one way or another about the origin sequence since I have no doubt that we'll see the whole thing go down again when it comes to the proper Flash pilot (and perhaps even tweaked a bit) but I will say that Grant Gustin seems perfect for the part. Let's hope he can move. His laboratory didn't just contain the chemicals that contributed to his rebirth, it also has his big board of extraordinary crimes. Every good detective needs a big board (with strings) and Barry has used his to keep track of all the vigilante's, I mean, hero's previous exploits explicitly citing the Dollmaker, Count Vertigo, Dodger and Huntress cases.
If only he could solve his mom's 'blurry' murder and free his wrongly convicted father! Oh well. That's a story for another series, for now Barry, not the Flash, must help his crush stop Sebastian 'Brother' Blood's plan to create an army of super soldiers. And I'm not talking about Felicity, although he does seem to also have some affection for Oliver's smitten sidekick. Speaking of sidekicks, Thea's Speedy and Roy's Red Arrow also find themselves involved in the 'mirakuru' case thanks to Sin's inside info on a dead body dismissed by the SCPD. After Laurel is unable to do anything (summing up her character this half-season), Roy takes things into his own hands and soon finds himself firmly wrapped up in those of Solomon Grundy.
Roy goes and gets himself kidnapped and injected with the mirakuru before Arrow can rescue him but that might turn out to be a blessing in disguise since, well, he's got superpowers now! Of course, a side effect might be becoming a blind follower of Brother Blood. Or just a guy who holds a really long (and strong) grudge. Yep, it looks like Slade aka Deathstroke is not only ghost number two but also the one supplying Blood with his blood/the serum. Why? Because he wants to see his 'friend' suffer in every possible way. I mean, Oliver did save Sarah's Canary from the ruthless Dr. Ivo instead of Shado (ghost number one) but it's not like his burnt ass was doing any better lying 'dead' in the sub. Rage doesn't make sense and I look forward to his revenge.
Especially now that Oliver has the power of Tommy (ghost three) on his side and a proper domino mask. Thanks Flash! Arrow returns with "Blast Radius," Wednesday, January 15 at 8 p.m. ET on The CW. Created by Marc Guggenheim, Andrew Kreisberg and Greg Berlanti, the DC Comics inspired series stars Stephen Amell, Katie Cassidy, David Ramsey, Emily Bett Rickards, Willa Holland, Colton Haynes, Manu Bennett, Paul Blackthorne and Susanna Thompson.
Your Daily Blend of Entertainment News
Thank you for signing up to CinemaBlend. You will receive a verification email shortly.
There was a problem. Please refresh the page and try again.