New Flash Trailer Crashes Comic-Con, Expect A Supervillain Of The Week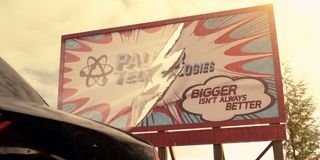 Even though Flash doesn't have its own panel at this year's Comic-Con, that doesn't mean they were going to let Arrow show them up. The superhero spin-off released their own tease to counter the first look at Season 3 of their sister show. Being a true tease, the 'Speed Trap' spot doesn't show off as much as the Arrow trailer but it's still pretty damn cool. I mean, that slow-motion shot in the highway patrol man's glasses is too rad.
Of course, that wasn't the only rad reveal in the short trailer with the billboard in the background showcasing one of Arrow's newest additions. Did you catch that it was for Palmer Technologies? Got to love their slogan...
They did screen the solid and, uh, flashy Flash pilot on Wednesday night (which received a great reception) but as far as new information, I feel like the series has already released most of their big news including the casting of Robbie Amell as Firestorm and Wentworth Miller as Captain Cold as well as the big, two-hour crossover event with Arrow that will happen during both series' eighth episode. Oh, and Felicity Smoak will make an appearance in Central City a bit earlier, arriving to see Barry Allen in the fourth installment.
When talking with the cast (Grant Gustin, Candice Patton, Danielle Panabaker, Tom Cavanagh and Jesse L. Martin) and creators (Andrew Kreisberg and Greg Bertanti) they mostly discussed things that we already know while remaining very tight-lipped regarding everything else. 'No comment' seems to be a very popular comment during the convention. Perhaps, the people behind Flash is saving a few announcements during the 'Warner Bros. TV and DC Entertainment' tonight in Hall H?
The cast was clearly concerned with what they were and were not allowed to say so they pretty much avoided anything that wasn't already common knowledge. For example, Panabaker was able to talk about the long game concerning her character's transformation into a supervillain (Killer Frost) while Cavanagh was kept on an incredibly short leash. The writers were a little more cavalier with their responses and let slip some fun, albeit still vague, details about what to expect from the first season.
Andrew Kreisberg noted that there will be a supervillain of the week (emphasis on super) for Barry to battle including the possible reappearance of the brother of the pilot's bad guy, the Weather-Wizard. Greg Berlanti shared his concerns about keeping the visual effects exciting when dealing with a smaller budget than the pilot (which looks great) before dropping hints for a few special set-pieces including a crashing train and Barry rescuing people from a burning building. Yeah, the latter sounds awesome. If they can pull it off. The one thing Tom Cavanagh was able to say about Flash is that the first nine episodes hold nothing back. The superhero series isn't playing it safe, big guns are being brought out early.
Flash premieres on Tuesday, October 7 at 8 p.m. ET on The CW.
Your Daily Blend of Entertainment News
Thank you for signing up to CinemaBlend. You will receive a verification email shortly.
There was a problem. Please refresh the page and try again.