Will Forte Embraces Solitude In Bizarre And Funny Last Man On Earth Trailer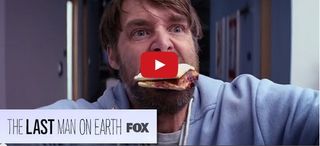 The conceit we're introduced to in the above trailer for The Last Man On Earth is that a man, Phil Miller played by Will Forte, wakes up one day to a world where he is the only one left. We don't know if this is true, and neither does he. So he sets upon a quest around the country in his recreational vehicle to search for others. The pilot for the Fox comedy was directed by Phil Lord and Chris Miller, and the trailer gives us a sense of the show's possible tone with the "aw shucks" brass laden music and Forte's endearingly sad trudge around the world. It's a funny trailer, full of fantastic Chaplin-esque work by Will Forte, who might be the brightest comedic star to not yet be huge.
When Cinema Blend's Nick Venable asked Fox why there was no trailer for The Last Man On Earth when the network released still images earlier today, it wasn't the petulant demands of a fellow man child. The Will Forte created series demands to be explained. In the same way people wanted to know how Cast Away could work. Of course, any Cast Away fans can tell you that the problem was solved by only having part of the movie be on the island and showing us Hanks relating to people as a way to provide a driving need in the film. Also, soccer balls kind of look like friends.
But while watching Phil Miller empty his cart of groceries to fill it with sad XXX pornos is worthy of a chuckle, there's a sadness evidenced in the trailer. Perhaps I'm influenced by Will Forte's poignant and endearing recent role in the Alexander Payne film Nebraska. Will Forte has an all encompassing quality that makes you want to laugh at what might be his slapsticky foibles in The Last Man On Earth, while finding the whole situation unbearably sad. After all, no matter how much of a loner you are there's a point when loneliness consumes you.
Maybe I'm wrong and the show will end up being a jaunty ride around America full of colorful jokes, but from the trailer I'm expecting something more interesting than that. Even with this trailer, as charming as it is, there's just no real indication of what the show will really be. And perhaps that's part of the point, The Last Man On Earth might just exist as a way to tell absurdist humor with no real drive. In a vaguely similar way Louis CK's FX series Louie isn't an ongoing story, but rather an ongoing analyses of one man's place in the world. Phil Miller just happens to have no one to be juxtaposed against.
No matter what, Will Forte has created something here that is already getting people to talk. Even if it's mainly about how the hell this could possibly work for a network series. We'll find out when The Last Man On Earth arrives in 2015. You can find the full Fox 2014-2015 schedule here.
Staff Writer at CinemaBlend.
Your Daily Blend of Entertainment News
Thank you for signing up to CinemaBlend. You will receive a verification email shortly.
There was a problem. Please refresh the page and try again.