Fox Announces Preview Episodes For Ben And Kate And The Mindy Project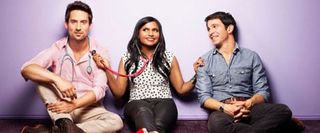 No one does a preview episode like Fox Entertainment Group. In the past year, Fox has rolled out early preview episodes for several shows, including New Girl, which went on to be a hit for the network. FX has also used the preview episode to promote programming, giving sophomore comedy Wilfred a leg up before its June 28th premiere last month. There's no word on exactly how successful these preview episodes have been, but obviously they have been a boon to Fox-owned channels, because for the 2012-2013 Fox has a few more previews coming our way.
Fox previewed freshman drama New Girl to bring attention to the freshman sitcom last year. Taking a cue from that show's success, the network will preview Ben and Kate, the new comedy following adult siblings as they raise the precocious little girl from We Bought A Zoo. Deadline is reporting the highly touted The Mindy Project, which will star Mindy Kaling, as well as will be written and directed by the actress, has also earned a preview episode.
The previews will be available via Video on Demand through certain cable providers, but will also be found via Fox TV's site and other platforms including Facebook, Hulu, and Yahoo. Both Ben and Kate and The Mindy Project are set to air on Tuesday, September 25. However, the preview episodes will be available from August 27 to September 9, giving potential fans plenty of time to check out the shows ahead of time. Deciding what to watch during a new TV season can be really tough early on and preview episodes can go a long way to help fans determine what shows are worth sticking around for and which look like early cancellations. At least that's what I think. Then again, I got suckered in to both Terre Nova and NYC 22 last year.