Free Agents' Kathryn Hahn Nabs Recurring Role On Parks and Recreation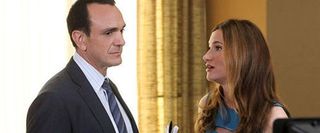 In the wake of NBC cancelling Free Agents, actress Kathryn Hahn won't be totally leaving the network's comedy lineup. NBC is giving Hahn a second chance -- this time in a coveted Thursday-night spot. In the new year, the actress will show up repeatedly on NBC's Parks and Recreation, and just like her Free Agents character, Hahn will be playing one badass, and likely quirky, female.
Hahn's recurring role on Parks and Recreation will pit her against Amy Poehler's character, Leslie Knope. Knope is running for city council, and Hahn will be her political opponent in the election. According to TV Line, Hahn's gig was initially written for a man. I have every confidence, though, that if Hahn could tackle a cutting, angry hippie in the recent Our Idiot Brother, she will have no problem rolling with the punches and playing a role written for a dude.
Unfortunately, just like the ill-fated Free Agents, Hahn's role on Parks and Recreation will be short-lived. Hahn is only set for a four-episode stint on the series, but I'm sort of hoping circumstance will keep her around a little longer. I actually loved a lot about Free Agents -- even though there was a lot to dislike, as well -- and Hahn's performance was one of the things that stood out to me. I wouldn't mind if she were a mainstay in the NBC comedy lineup. Here's hoping she wins some new fans on Parks and Recreation.
Update:
Small correction to this news per Michael Schur's Twitter:
Your Daily Blend of Entertainment News
Thank you for signing up to CinemaBlend. You will receive a verification email shortly.
There was a problem. Please refresh the page and try again.