Game Change Featurette Shows Julianne Moore Becoming Sarah Palin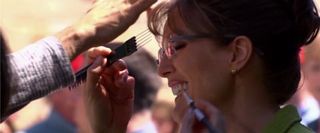 Every time HBO releases another piece of promotional material for Game Change, my anticipation grows. And that's quite impressive considering the last time HBO, writer Danny Strong and director Jay Roach teamed up, they won the Outstanding Made for TV Movie Emmy for Recount. Obviously expectations were already high, especially since the new film finds itself in familiar territory and is based on the best selling novel "Game Change: Obama and the Clintons, McCain and Palin, and the Race of a Lifetime" by John Heilemann and Mark Halperin, but this latest behind the scenes featurette cuts away with some of the humor and somehow makes it look more important (and certainly relevant).
First of all, Julianne Moore's portrayal of Governor Sarah Palin is uncanny. The actress doesn't just look like Palin - although huge credit to the make-up artists and costumers for making her look like a clone - she has meticulously studied the former Governor's mannerisms and speech patterns in order to deliver the most accurate performance possible. The moment in the video when Jay Roach smiles coyly, knowing that they are capturing something special in Moore's performance of Palin, is priceless.
Ed Harris looks equally up to the task as his John McCain is also a spitting image of the real man. And finally, Woody Harrelson stars as Steve Schmidt and seems like the glue that will hold this film together. That's not a bad thing since Harrelson's been doing nothing but quality work for years. At the end of the day though, it's not just about how much the actors look and act like the characters they are portraying, but how engaging and worthy is the story that they're telling. Well, with the next election heating up it might be worth exploring, as Jay Roach puts it, "how we choose our leaders."
Game Change airs Saturday, March 10 on HBO.
Your Daily Blend of Entertainment News
Thank you for signing up to CinemaBlend. You will receive a verification email shortly.
There was a problem. Please refresh the page and try again.