Game Of Thrones: Jon Snow's Fate, According To Kit Harington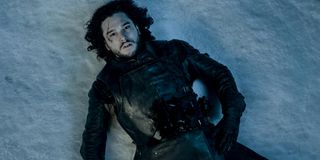 In-depth spoilers if you didn't catch Sunday's episode of Game of Thrones. Everyone still here? Alright, let's go.
If you caught last night's Game of Thrones, you were probably simultaneously shocked and devastated when Jon Snow was betrayed by a few key members of the Night's Watch, stabbed, and left to die in the cold. In George R.R. Martin's popular novel, A Dance with Dragons, this scene culminates with a line about Snow not even feeling the fourth knife, seemingly alluding to his death. But has Jon Snow taken his last breath?
According to actor Kit Harington, who plays Snow on the popular HBO drama, he has.
Harington's quote to EW is pretty definitive. To further confirm that he is truly done with the series, Harington also cut the locks he was forced to wear for the past five seasons on the HBO drama, locks that he begrudgingly dealt with but oft complained about. He also mentions that he has a few upcoming movie projects in the works, so it seems he's looking to fill his time in the absence of Game of Thrones.
If that's not enough to convince you that Jon Snow will not be back, in addition, Director David Nutter also bluntly confirmed to THR that our hero on the wall is totally done for.
So, on the surface, it seems as if Jon Snow really and truly has died on the series and will not be back for Season 6. However, that hasn't stopped people on the internet from surmising this might be a big fakeout. Plenty of outlets and readers are noting that A Dance with Dragons ends on an ambiguous note and author George R.R. Martin has been notoriously elusive about whether or not Jon Snow makes it through the stabbing, even noting:
Obviously, George R.R. Martin doesn't get to make the final call for the series, but that's still compelling evidence that Jon Snow might appear on Game of Thrones in another form during Season 6—maybe as a white walker, maybe as someone else (Melisandre was around during the episode). We have a long wait before we'll find out where that particular storyline is going, but in the meantime, there's certainly a lot of information to chew on.
Photo courtesy of HBO
Reality TV fan with a pinch of Disney fairy dust thrown in. Theme park junkie. If you've created a rom-com I've probably watched it.
Your Daily Blend of Entertainment News
Thank you for signing up to CinemaBlend. You will receive a verification email shortly.
There was a problem. Please refresh the page and try again.