Game Of Thrones' Nonso Anozie And Merlin's Katie McGrath Join Dracula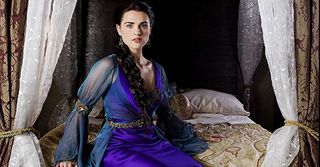 The new Dracula series over at NBC has added a couple of actors to join star Jonathan Rhys-Meyer. On board for the straight-to-series drama are Game of Thrones' Nonso Anozie and Merlin's Katie McGrath; both will be taking on regular roles.
NBC's take on the character of Dracula will follow the legendary vampire in London in the 1890s, where he will cover as an American businessman who is trying to bring modern science to English society. Meanwhile, he will be seeking his revenge for things that happened hundreds of years ago, but finds his plans change when he falls in love with Mina (played by Arrow's Jessica DeGouw), a woman who may be the reincarnation of his long-dead wife.
McGrath will take on the role of Mina's best friend, the social butterfly Lucy Westenra. She's a gossip who loves to flirt and enjoys the glamorous life, but finds her relationship with Mina in trouble when she gets embroiled in a dangerous game of lies and lust. McGrath actually appeared in an episode of Jonathan Rhys-Meyers previous series The Tudors, but she's best known for her role in Merlin, where she starred as Morgana.
Anozie's role will be that of R.M. Renfield, the man who knows and keeps Dracula's secrets and the person who assists him in keeping his double life under wraps. Anozie appeared in last season of Game of Thrones and will soon appear in the mini-series The Bible playing strong-man Samson.
Deadline says NBC is hoping for a fall of 2013 premiere date for Dracula, one of the rare series to skip the pilot stage altogether—which means NBC is confidant. With Jonathan Rhys-Meyer in the lead role, this one is on my radar.
Your Daily Blend of Entertainment News
Thank you for signing up to CinemaBlend. You will receive a verification email shortly.
There was a problem. Please refresh the page and try again.