The Game Of Thrones Scene Fans Are Mad They Didn't Get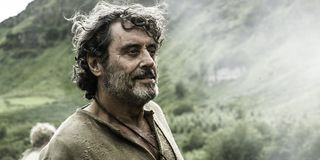 Spoilers from this week's episode of Game of Thrones, as well as the Song of Ice and Fire books, are all over this article.
The Hound's big return was pretty much the most exciting component of this past weekend's Game of Thrones episode, overshadowing even Arya getting stabbed or the introduction of badass child leader Lyanna Mormont. Along with The Hound, we met his new leader, Brother Ray, a character we've known for a while would be loosely based on the book character Septon Meribald. Unfortunately, a lot of book readers missed out on an epic scene they were sorely hoping to get.
In A Feast For Crows, Septon Meribald meets up with Brienne and Pod, which obviously wouldn't be possible in the context of the Game of Thrones narrative. However, in the books he is given an epic speech explaining the nature of men and what makes them "broken," and idea that is nodded to in the episode title "The Broken Man" that could have easily translated more fully into his conversations with The Hound about what makes men the way they are and what the path to the future is. Here's an idea of what the sequence looks like:
Prior to the episode airing, we knew Ian McShane would be playing the Meribald stand-in, a character known simply as Brother Ray on the series. We got a few interesting conversations between Sandor Clegane and his new mentor before the Brotherhood Without Banners promptly rode in and cut down Brother Ray and the other members of his peaceful group while The Hound was out cutting firewood. The Hound was clearly devastated to see his mentor hanging from the rafters of the structure he had been trying to build by hand, and should be looking for vengeance in the coming weeks. While the structure served to explain what The Hound has been up to for the past couple of seasons, as well as set him up for a continued narrative moving forward, it dissatisfied a lot of fans who have read George R.R. Martin's works.
What can we say? Fans are passionate about the source material. Sometimes very, very passionate:
Ian McShane did sort-of give that speech, disagreeing with Sandor Clegane about the state of men and what makes them broken. He explained that he believed all men could "come back" and could "bring a little goodness" into the universe. But the speech doesn't quite have the same impact as the one in George R.R. Martin's novel, which is widely considered one of the finest parts of Martin's writings. If anyone were capable of pulling off a speech like that, it would have been Ian McShane.
Moving forward, it looks as if we won't see The Hound live up to his mentor's example and will see him push and claw and fight until he has the Brotherhood Without Banners right where he wants them. Find out when new episodes of Game of Thrones air on Sunday nights at 9 p.m. ET. In the meantime, you can check out what we know about the upcoming episodes.
Your Daily Blend of Entertainment News
Reality TV fan with a pinch of Disney fairy dust thrown in. Theme park junkie. If you've created a rom-com I've probably watched it.
Your Daily Blend of Entertainment News
Thank you for signing up to CinemaBlend. You will receive a verification email shortly.
There was a problem. Please refresh the page and try again.