Game Of Thrones Season 2 Finale To Include 10 Extra Minutes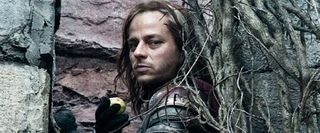 The second season of HBO's Game of Thrones is sadly almost over. After the impressive spectacle of Blackwater, an episode focused solely on the siege of King's Landing, the finale is now tasked with picking through the remains of the battle as well as tying up all the other loose ends. And surely creating a few more since every conclusion needs a good cliffhanger. Season 1 delivered dragons, so what will Season 2's "Valar Morghulis" have in store? That will be revealed Sunday in an extended final installment.
An extra ten minutes to be exact! HBOWatch shared the news and you don't need to look any further than the schedule (or yours at home) to confirm it. But you will probably want to make sure your DVR has the update, or else you might record the finale and find it a little less finale than you had hoped. Game of Thrones episodes typically run just shy of 55 minutes but "Valar Morghulis" has an official runtime of 64 minutes! And sure, ten minutes may seem like nothing but it's a, uh (wait...), 18.5 percent increase in run time!
Thank the Old Gods or the Seven or R'hllor or whomever you worship because, if there is one constant complaint I have about the series it's that, there is never enough time. Not necessarily a bad complaint to have (your audience always wanting more) but the series always runs the risk of sharing too much too quickly and losing the viewers. If there is one episode where you definitely don't want to rush anything, it's the finale. And the preview for "Valar Morghulis" suggests that there is still a lot of plot to sort out before the end credits roll, so it's great to see that HBO has granted David Benioff and D.B. Weiss the extra run time to ensure it's done right. The second season finale airs Sunday at 9 p.m. ET on HBO. Game of Thrones is based on the "Song of Ice and Fire" saga by George R.R. Martin.
Your Daily Blend of Entertainment News
Thank you for signing up to CinemaBlend. You will receive a verification email shortly.
There was a problem. Please refresh the page and try again.