Game Of Thrones Season 5 Is Deviating From The Books In This Big Way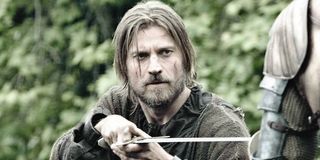 HBO's Game of Thrones is based on George R.R. Martin's famous Song of Ice and Fire series and often follows the same trajectory as Martin's tomes. However, the show has occasionally deviated from the events in the books, as well as switched around timelines to tell a different story. As can be expected, Season 5 will be no different, but this week it was revealed that Jaime Lannister's onscreen trajectory will deviate in a pretty significant way.
Obviously, we are going to get into some past and future spoilers here, so if you aren't caught up on the series or don't want to know anything from the books, we suggest you turn away immediately.
In a big change, Jaime Lannister is expected to head to Dorne during Season 5. According to EW, Jaime will be sent on a mission to visit the Martell household. While there, he will meet Oberyn Martell's less hasty brother Doran, along with the three Sand Snakes, Obara, Tyene and Nymeria—who happen to be three of Oberyn's eight bastard daughters. You've got to think he'll get to interact with the re-cast Princess Myrcella, as well.
Why is this big news? Well, because it unfolds an entire wrinkle in the Game of Thrones plot that could continue to change the narrative down the road. When last we saw Jaime, he helped Tyrion to escape the prison at King's Landing, leading to Tyrion killing his former love Shea, along with Tywin Lannister. Following these events, in the books Jaime first comforts Tommen regarding the death of his grandfather and then is sent by Cersei to take care of Edmure Tully and Brendan the Blackfish. It's not exactly glorious work, and you would think that Game Of Thrones showrunners D.B. Weiss and David Benioff might want to give the character something more exciting to do. Having him interact with the deadly Sand Snakes and the thoughtful Doran could be exactly what the doctor ordered.
It's also worth noting that in the books Jaime is sent on a mission by Cersei well before her big Season 5 scene goes down. Due to this, we should theoretically be able to see a whole new side of a Jaime and a new set of interactions within Dorne without totally having to change every single detail of Jaime's story arc, especially related to Cersei.
We'll let you know if any other details related to this plotline break. In the meantime, Game of Thrones is currently in production for Season 5. Fans can catch the new episodes when they air next spring, and in the meantime, take a look at everything we know about Game of Thrones Season 5 so far.
Reality TV fan with a pinch of Disney fairy dust thrown in. Theme park junkie. If you've created a rom-com I've probably watched it.
Your Daily Blend of Entertainment News
Thank you for signing up to CinemaBlend. You will receive a verification email shortly.
There was a problem. Please refresh the page and try again.