The Glee Project Season 2 Adds Jane Lynch And 2 More As Mentors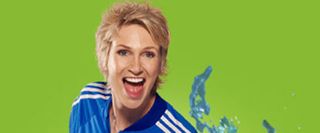 In its first season, mentoring on The Glee Project came through Glee cast members, guest stars, and even creator Ryan Murphy. Although Darren Crissis, who plays Blaine on the show, did appear as a mentor on several Glee Project episodes, many of the other more prominent cast members did not give working on the production a chance. However, Season 2 of The Glee Project started up just a few days ago, and now Murphy has let the news slip some Glee favorite cast members will mentor during Season 2.
Last night, during an Emmy consideration panel, Murphy spoke out to discuss the difficulties he encountered when first attempting to get his cast invested in the Oxygen program that gives aspiring teens the chance to live out some acting dreams on Glee. He also spoke out about some of the attitude changes he encountered when preparing for Season 2 of The Glee Project.
According to THR, Season 2 will be set up like last year, with a different guest mentor invested in each episode. Only this year, Jane Lynch, Chris Colfer, and Amber Riley will join Criss and the already announced Cory Monteith and Naya Rivera in the lineup. It seems like good news all around, but if you are a fan of Oxygen's program, there will be a little surprise at the end. Just one single winner will earn a 7-episode arch on the show. It seems like the network was a little perturbed when Murphy made room for four Glee Project cast members on his hit Fox program after last season. Only time will tell if the producer will be able to twist the network's fingers a little bit, but I'm guess a lot of this will have to do with what level of talent appears on Season 2 of the show.