Glee Watch: Season 3, Episode 12 - The Spanish Teacher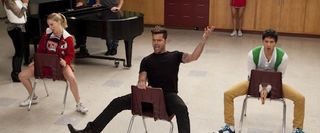 Livin' La Vida Ricky! In last night's episode, Latin sex symbol Ricky Martin shaked his 'bon bon' into the hearts of McKinley High staff and students. Let's recap shall we?
Mr. Martinez
Ah Ricky Martin, when I first heard that you were guest starring on Glee, I had no worries because I fondly remember your acting days as the sultry Miguel on General Hospital. (FYI Ricky is a pretty good actor.) And Ricky brought humor, great vocals and heated up the screen with his vibrant teeth. I particularly enjoyed Glee's back story of Mr. Martinez being a tooth model. LOL. And with Ricky getting the Spanish teacher position I hope that means he is now a recurring character. Oh, and maybe Holly (Gwyneth Paltrow) can return and they can start a muy caliente love affair!
Will is History
With Mr. Martinez better suited for teaching the kids Spanish (watching Will teach was painful), Will realized his "duende" was Glee Club and perhaps a side of history. So, I guess we can assume he got the history teacher position.
Emma Got Tenure
Despite Will being a colossal jerk to Emma (he later apologized) about her quirky pamphlets, a glowing pamphlet endorsement from Coach Beiste gave Emma the confidence to go after the tenure position, and Emma got it!
Mother Sue
When I heard Sue wanted to be a mother I expected the unexpected, but her asking students for their DNA was quite shocking even for Sue. I was really surprised she didn't get in major trouble. Then later on asking Will for his "gravy" was creepy too. But putting all of that aside, I agree with Becky, Sue will make a great alpha mother. In fact, I bet she already has a bigger and better phrase than Amy Chua's "Tiger Mother" just waiting in the wings. And a side note: I hope Sue gets her mojo back pronto and puts "Coach NeNe" in her place because that verbal smackdown was painful to watch. Sue so got served by the Real Housewife/Olympian.
Sam and Mercedes: Update
Emma instructed Sam and Mercedes to cool it for a couple of days and not communicate with one another so that the two could evaluate their feelings. How awesome was the "two-timing ho" pamphlet? At the end of the episode, it truly looked like Mercedes had chosen Sam until football boyfriend appeared. Hmm guess Mercedes really is a two-timing ho?
Kurt Intervenes
Rachel's revelation during her "girl's night" with Mercedes and Kurt that she was engaged had Kurt reeling. And while I don't recommend meddling in other people's affairs, I think in this case Kurt did a good thing by telling Finn about other options besides getting married.
LOL Moments
Coach Beiste going on about the "taint misbehavin' pamphlets" almost had me crying. It was a great play on words, but I'm surprised Fox didn't get some flack for that joke. And in case you missed any of the other pamphlets, here are the rest of Emma's hilarious pamphlets: "So You're a Two-Timin' Ho," "So You're Dating a Two-Timin' Ho," "Please Don't Hog My Fiancé's Nog," "Performance Anxiety -- It's Not Just for Teenage Boys," "How To Give Yourself Stitches," "Taint Misbehavin'," "So You Were a Jerk to Your Fiancé" and "Congratulations -- I Love You."
Memorable quotes
• Martinez: "For the last six years I was a tooth model. It's like a hand model - but with your teeth."
• Martinez: "I actually learned English watching Solid Gold."
• "Sue: "Twice a day, you boys stain your mother's drapes or befoul a gym sock that has to jump from the hamper straight into therapy, why not head on down to the clinic and put your virile teen years to good use? You'll have five bucks more than when you walked in."
• Sue: "Looked like the cast from Ice Road Truckers." -- Sue on the selection of donors at the sperm bank."
• Sue: "Seeing as how I find bald infants terrifying, I'm going to need a few ounces of your baby gravy to ensure Sue Sylvester Jr. is born with a full head of hair."
• Brittany: "Oh, I'm bilingual."
• Mercedes: "How's a girl with no ass supposed to chose between a juiced up wolf and a depressed vampire?"
Music featured
• "I'm Sexy and I Know It"
• "A Little Less Conversation"
• "La Isla Bonita"
• "Don't Wanna Lose You"
• "Bamboleo//Hero"
Gleeks, next week is Glee's special Valentine's Day episode, and we get to meet Rachel's fathers. And wait for it... one of them is Jeff Goldblum! Wow The Fly spawned Rachel Berry... Can't wait!
Your Daily Blend of Entertainment News
Your Daily Blend of Entertainment News
Thank you for signing up to CinemaBlend. You will receive a verification email shortly.
There was a problem. Please refresh the page and try again.