Gordon Ramsay's Hotel Hell Renewed For Season 2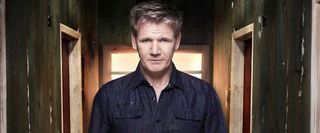 Fox has announced pretty great news for fans of Hotel Hell: the reality series is getting an extended stay on the network. After posting the highest-rated debut for a series opener this summer, Hotel Hell has averaged great ratings for the network, even becoming the highest rated new series in the coveted 18-49 demographic over the summer, and it is no surprise Fox would want to give Gordon Ramsay's newest show a second season.
Hotel Hell follows Ramsay as he visits hotels, inns, and bed and breakfasts across the country in dire need of a makeover. Like Ramsey's Kitchen Nightmares, Hotel Hell follows the chef and hospitality expert as he assesses the business and makes plans to fix the flailing establishment. Instead of food disasters and unsanitary kitchen conditions, however, Ramsay must deal with problems like mold, dead bugs, and even some suspect stains.
Hotel Hell was supposed to premiere way back in June, but Fox later decided August would be a better time to introduce the show to viewers. At the time, it was a bit of a bummer for excited fans (Well, at least for me), but luckily the change in the premiere date now means there are a couple of episodes left in the season. So, if you haven't caught Hotel Hell yet, you can check out the special two-hour season finale on September 3. In the double episode, Ramsay will visit two hotels—one that is just plain dirty and a second that features a delinquent owner with a murder mystery obsession.
Hotel Hell's Season 1 finale airs Monday, September 3 at 8 p.m. ET on Fox.
Your Daily Blend of Entertainment News