New Gotham Photo Shows Us Alfred Pennyworth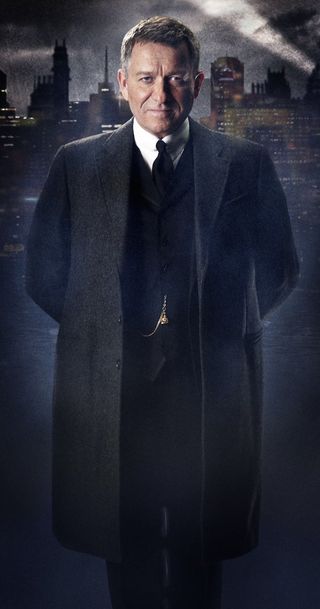 Fox has released another character photo for Bruno Heller's upcoming Gotham City-set drama Gotham. This one gives us a look at a character we should be pretty familiar with from the films. Sean Pertwee is set to play Alfred Pennyworth in the drama series, which will serve as a prequel to the Batman era of Gotham City and will center on Detective Jim Gordon, the man who will go on to become Gotham's police commissioner.
From what we know about Pertwee's role for this particular adaptation of the DC character, Alfred is described as:
That "young Bruce Wayne" is set to be played by Touch's David Mazouz. We have yet to see Bruce Wayne's character photo, but Warner Bros may be holding off on that reveal. The same for Ben McKenzie's Jim Gordon, who's set to be at the center of this drama.
Pertwee's looking respectable and ready in the above photo, dressed in an overcoat, his hands behind his back. His attire seems to aim for classy and simple, though there's a distinguished chain within view at his midsection, possibly for a pocket watch? Because a guy like that would probably have a pocket watch, right?
This latest glimpse at the characters for Gotham was shared on the official Gotham Facebook page. and follows two other previously released character photos:
This one shows us Camren Bicondova as Selina Kyle:
And this one shows us Donal Logue as Jim Gordon's partner Harvey Bullock:
Fox has yet to set a premiere date for Gotham, but with a straight-to-series order in place, we know we'll see this series on the air eventually. We'll be sure to keep you posted if and when the network gives us more information on when we can expect to see it. In the meantime, Fox has released an official logo for the series, as well as a lengthy synopsis, which you can read in its entirety here. And check out an excerpt below:
Your Daily Blend of Entertainment News
Thank you for signing up to CinemaBlend. You will receive a verification email shortly.
There was a problem. Please refresh the page and try again.