Grease Is Getting A Live Musical With Vanessa Hudgens And More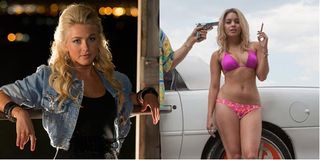 The era of the live TV musical has apparently dawned. Taking a note from the NBC playbook, Fox has a live musical planned based on the hit musical Grease. This week at the Television Critics Association press tour, the network announced that two leads have finally been signed on to the currently-titled Grease: Live production. Dancing with the Stars former professional dancer and new judge Julianne Hough and High School Musical actress Vanessa Hudgens are both joining the cast of the live musical production.
The blonde Julianne Hough is obviously going to play Sandy—the new girl at Rydell High with a squeaky clean image. That means Hudgens has signed on as brunette Rizzo, a girl with a reputation for tight clothes and smoking—although the latter probably won't make it onto network television much, as the Constantine crew can attest. Hudgens is an obvious choice for a musical, having acted in numerous movies and released several albums. Anyone who actually caught Rock of Ages probably knows Hough can sing and act, as well as dance. They'll be taking over for Olivia Newton John and Stockard Channing, who played the roles in the original movie.
Beyond the casting news, Coming Soon reports that Grease: Live will not be hitting the schedule in 2015, as previously expected. Instead, the musical production will hit Fox's schedule on Sunday, January 31, 2016 at 7 p.m. ET. The production is coming from Fox and Paramount Television and Marc Platt will executive produce.
Personally, it feels a little sticky of Fox to throw together a title like Grease: Live. On the one hand, I understand the network needs to throw together a title that makes it clear the production will be a live endeavor. On the other hand, I'm not sure throwing a colon in the title differentiates the project enough from NBC's Sound of Music Live or Peter Pan Live. That's probably the point, as it's a blatant ripoff of a product that has been working for NBC for a couple of years.
I'm certainly not begrudging Fox for wanting to give the successful format a shot. That would be like getting upset because both CBS and ABC have procedurals in their lineup. In fact, I think Fox has totally taken a different angle with Grease: Live. The network has intentionally signed on for a musical that will hit a hipper audience, and is a little more risqué than the family-friendly fare NBC has chosen for its first two live musicals. Grease talks about smoking and sex, and Vanessa Hudgens and Julianne Hough should both be cool enough to pull off the lingo of the time. Now, we just can't wait to see which other young-ish actor will be stuck with that John Travolta greaser hairstyle. We'll let you know as soon as Grease: Live signs someone on.
Reality TV fan with a pinch of Disney fairy dust thrown in. Theme park junkie. If you've created a rom-com I've probably watched it.
Your Daily Blend of Entertainment News
Thank you for signing up to CinemaBlend. You will receive a verification email shortly.
There was a problem. Please refresh the page and try again.