Grey's Anatomy: What Actually Happened To Derek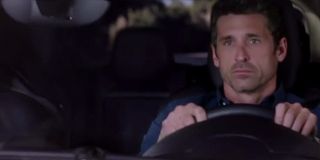 There are major spoilers in this article if you haven't caught tonight's episode of Grey's Anatomy, "How To Save A Life." If you don't want to be spoiled, we suggest skedaddling out of this article and reading one of our other lovely stories. Everyone still here? Alright, let's go.
The will he stay or will he go rumors related to Patrick Dempsey and his role on Grey's Anatomy have been running around for months. Part of us still hoped the good doctor would finish out his contract on the ABC show, but with all of the hints and rumors being bandied about, a good chunk of the audience was ready to see Dr. Derek Shepherd exit. Earlier today, an issue of EW that got mailed too early confirmed that Patrick Dempsey will be leaving the series, but how did it happen? We've got the details.
Anyone who saw the preview for this week's episode should already know a major car accident was going to be a factor, and it is. As Derek is driving on a road, he happens upon a car accident in a remote area. He has no cell signal, but goes in to help those involved in the accident. Eventually, one of the two cars involved, a sports car, explodes. However, Derek's fine. After the initial explosion, there is a brief feeling that all of this hype was a huge misdirection from the network; then again, CinemaBlend knew Derek was exiting at this point, and Shonda Rhimes is known for big, messy climactic endings. This time, she doesn't disappoint.
Derek's about to leave the scene of the accident when a truck comes out of nowhere and slams directly into his car, causing a second accident. He's rushed to the hospital, but a doctor error prevents him from getting a brain scan, and by the time a neurologist shows up and the doctors realize the problem, it's too late. Derek is hooked up to machines until Meredith and the kids show up, and following a poignant flashback of the couple meeting, we are made aware that Derek is no longer alive.
Shonda Rhimes wrote the episode, and THR reports it is the first time that has happened since the Season 8 finale, which is pretty incredible, and is a nice nod to the importance of the character Dr. Derek Shepherd to the series. While we'd expect nothing less than a big death from Grey's Anatomy, there are some quieter, compelling portions of the episode, too, such as when Meredith gives one of Derek's doctors a pep talk about remembering the situation in the future, but moving forward.
We've known this could be coming for quite some time. Back in January, the rumor mill began indicating that Dempsey might be moving on from the series. At the time, he had signed a contract through next year, but he's not the first and probably won't be the last Grey's Anatomy character to exit early. Grey's Anatomy has been on the air for a decade, now, and in that time a lot of actors have left. But not many of them lasted for even close to as long as Dr. Derek Shepherd, and few had even an iota of the same impact. Rest easy, Derek, we'll be Mcdreamin' of you tonight.
Reality TV fan with a pinch of Disney fairy dust thrown in. Theme park junkie. If you've created a rom-com I've probably watched it.
Your Daily Blend of Entertainment News
Thank you for signing up to CinemaBlend. You will receive a verification email shortly.
There was a problem. Please refresh the page and try again.