Grimm Season 3 Premiere: A Look Back And A Look Ahead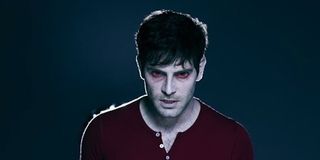 NBC is set to bring Grimm back this Friday night. Since it's been months since the series aired, your memory of the events of Season 2 may be a bit rusty. Allow us to offer you a refresher course in where things left off and what's coming up in the series' third season. We'll start with this handle recap video, which takes us through the highlights of last season. (Season 2 spoilers ahead!)
In addition to finding as many words as possible that rhyme with Wesen, the above video does a pretty good job of summing up where things left off when Season 2 wrapped up. Adalind (Claire Coffee) is getting her powers back, thanks to the help of Stefania (Shohreh Aghdashloo), which should hopefully make her more useful as a character in Season 3. Meanwhile, after spending most of the season not remembering who Nick (David Giuntoli) is, Juliette (Bitsie Tulloch) now remembers him and knows that he's a Grimm, and that most of his friends are Wesen. Hank (Russell Hornsby) also knows Nick's a Grimm and that most of the crimes they solve involve people who aren't really people. That certainly simplifies things for Nick at work and it makes Hank a more interesting, less frustrated character. Sean Renard (Sasha Roiz) is less of a enemy that he was at the beginning of the season. Or at the very least, he seems willing to ally with Nick, which probably has less to do with liking or trusting Nick as it does with the issues with his family, including his brother Eric (James Frain). Finally, Monroe (Silas Weir Mitchell) and Rosalie (Bree Turner) are in a cozy, adorable kissy place as a couple, as would Nick and Juliette be if he weren't a zombie.
Season 2 ended with Nick being placed in a casket courtesy of Eric and the fish-face guy in the top hat who left Nick zombified. And that's the cliffhanger. The last we saw of Nick, he was freshly splattered with green goo and left paralyzed in the casket. Who knows what stage of Nick's zombification he'll be in when Season 3 picks up, but on the bright side, at the very least, we know Rosalie has a cure for it. They just have to find him… and also escape the zombies that were surrounding them in the final moments of the finale.
READ ABOUT WHAT'S AHEAD FOR SEASON 3 AFTER THE JUMP...
Season 3 picks up with "The Ungrateful Dead." Here's the official episode description:
I've seen the premiere, and without going into too much detail, "The Ungrateful Dead" begins as a direct continuation of last season's "Goodnight, Sweet Grimm." Nick's in the casket, his friends are under attack…
It's a real benefit that all of the major characters in Nick's life know what he is now, as they can all work together to get him back. Secret identities are fun, but they can really clutter up a story if every turn involves telling lies or one or two in-the-dark characters constantly missing obvious clues that something's amiss. In the case of Grimm, with Juliette and Hank in on the loop, they can get involved in the efforts his friends are making to rescue Nick.
Mild Season 3 spoilers ahead...
The first act of the Season 3 premiere is an exciting one, when factoring in all of those zombies that are still at large, not to mention Nick's captor's efforts to escape. And it's evident by the second episode ("PTZD") that there will be some fallout from this whole zombie incident. Meanwhile, Adalind's story feels pretty detached from everyone else's, as she works with Stefania to get her Hexenbiest abilities back. It feels a bit like a distraction, but a necessary one if it means we'll have powerful-Adalind back in action.
This may be sheer optimism here, but looking at the first couple of episodes of the series, I feel like Season 3 could be Grimm's best yet. Now that Hank and Juliette are in on Nick's situation, there's so much potential for the group dynamic to really gel. And then there's the matter of Nick coming into his own as a Grimm...
I'm going to do my best to be as vague as possible for spoiler-purposes here. One of the things I've noticed about the show, particularly in these first two episodes of Season 3, is that protecting regular people — innocent bystanders/non-Wesen Portlandians — is a priority for Nick and his friends. It's not just about them protecting themselves from threats or rescuing a targeted victim from a predatory Wesen. Limiting the collateral damage is also a priority. With monsters tearing through the town on a regular basis, the intended targets aren't the only people at risk. Some guy walking in the wrong parking lot at the wrong time could get hurt, or more specifically, those people who got turned into zombies. They matter. Their lives matter to the lead characters. This is made evident in the season premiere, but it's even more relevant to the second episode.
Something transpires in Episode 2 of the third season that makes me wonder if maybe this subject will be explored in greater detail from Nick's perspective. The set-up is there, and "PTZD" leaves off in a somewhat uncertain place, which makes me think maybe part of Season 3 will involve Nick trying to handle the level of responsibility that comes with his calling, and question just how accountable he needs to be for the things that happen on his watch.
And with that, I'll shut my mouth so I don't give anything else away. But be sure to tune in and watch Grimm when it airs Friday, October 25 at 9:00 p.m. ET on NBC.