Grimm Spoilers: Dee Wallace And Chris Mulkey To Play Whose Parents?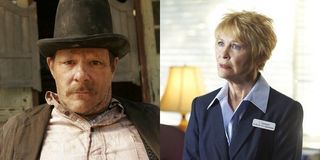 While Monroe and Rosalee begin to get domestic with their relationship, it looks like the series is planning to introduce us to Monroe's parents at some point this season. E.T.'s Dee Wallace and Friday Night Lights' Chris Mulkey have been cast to play Monroe's parents. And from what's being reported, it doesn't sound like they're all that supportive of their son's lifestyle choices.
TVline reported the news, stating that Wallace and Mulkey will be playing Alice and Bart, Monroe's Wesen parents. Now, we know Monroe's pretty happy with his current state of affairs. He's best friends with the local Grimm, he's maintaining a non-violent lifestyle and he has the love of a beautiful Fuchsbau. But from what TVLine reports, it doesn't sound like Monroe's parents are all that appreciative of any of this. The appearance, which is set for sometime later this season, is related to Monroe and Rosalee's wedding. Apparently, Monroe will have to convince his parents to open up to his way of life. It sounds like Monroe's relationship with Mom and Dad will be hanging in the balance.
Wallace may be best known for playing the mother to Elliot and his sibling in E.T. The Extra Terrestrial. Her earlier credits also include Cujo and Critters. More recently, she appeared in ABC Family's Switched at Birth and Syfy's Warehouse 13. As for Mulkey, in addition to playing Coach Bill McGregor in Friday Night Lights, his credits include Cloverfield, 24 and more recently, Boardwalk Empire and Captain Phillips. Going back a bit further, he appeared in First Blood and Rain Man.
So we have Monroe's judgmental parents to look forward to later this season. But let's talk about this Friday night, as it sounds like the monster-of-the-week will be taking Nick to the water, while Monroe and Rosalee take a major step forward in their relationship. Here's the preview for "One Night Stand."
And here's the official description: