Julia Louis-Dreyfus Will Headline American Force Majeure Remake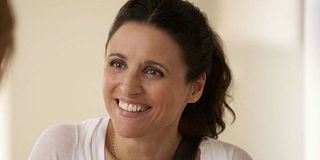 It shouldn't be a surprise at this point, but every time a recent, acclaimed, international picture gets an English-language remake, you always have to wonder why and fear it's going to get screwed up. The latest film to go through this process is Ruben Östlund's biting 2014 drama, Force Majeure, and Julia Louis-Dreyfus is in negotiations to star.
According to The Hollywood Reporter, Fox Searchlight recently acquired the rights to the film, and the Veep and Seinfeld star will not only appear in the picture, but serve as a producer as well. One of the best films of last year, Force Majeure cleaned up at the Guldbagge Awards (Sweden's Oscars), took home a Jury Prize at Cannes, was nominated for the Best Foreign Language Film at the Golden Globes, and was Sweden's entry for Best Foreign Language Film at the Academy Awards.
Julia Louis-Dreyfus is most known for her comedy chops, though in 2013 she appeared in Nicole Holofcener's Enough Said opposite James Gandolfini, and has splashed around in the more dramatic side of the pool from time to time. A serious as it sounds, and as serious it is, Force Majeure does have a sense of humor, though it's a bleak, wicked strain, the kind where you laugh because the only other options are to cringe or cry. There are a number of brutally, delightfully awkward scenes, one dinner party in particular, and Louis-Dreyfus would totally kill in these moments.
The story follows a family on a ski vacation in the Alps. As mom, dad, and two kids eat lunch at the resort one afternoon, there is an avalanche, and the father flees to safety, abandoning his family to the danger. No one is hurt, but his actions cause irreparable harm to the fabric of the family unit, and the rest of the movie deals with the fallout from this inciting event as domestic issues bubble to the surface.
It's a deceptively simple premise, but one that Östlund uses to great effect. He just flays people with ruthless, deliberate precision, building a shocking amount of tension in unusual ways. The wife and kids will never be able to look at the father the same way again, and the film strips them down to their very foundations. It's a sharp, visceral dissection of relationships, communication, family, and the ideas of the people we think we are, versus the cold slap of reality.
As with most remakes, the biggest worry here is that the new version will bulldoze the things that make the original unique and interesting. In the wrong hands—and there's no director or writer attached yet, so we have no idea on that front—this could easily become another tepid family drama about a troubled marriage, which would be a damn shame.
Force Majeure certainly is a family drama, but there's much more than just that going on, and there are so many things that set it apart. Östlund is prone to lingering in scenes in order to drive his point home and turn the knife, staying well past when most Hollywood movies would have cut away. The more I think about it, the more perfect Louis-Dreyfus the female lead seems kind of brilliant, but it's hard not to be concerned about everything else.
Your Daily Blend of Entertainment News
Thank you for signing up to CinemaBlend. You will receive a verification email shortly.
There was a problem. Please refresh the page and try again.