Happyish Trailer: Steve Coogan Wants An Erection In New Showtime Series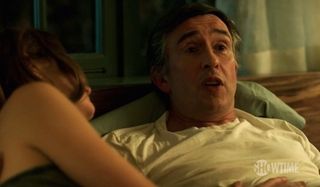 His name is Steve Coogan and while many Americans may not know his name, they likely know his face. And if all goes well with his new series Happyish, which debuts on Showtime this April, we'll likely be seeing a lot more of Coogan in the coming years. For now, we can watch him tackle the typically uncomfortable (although seemingly not to him) conversation of what drug commercials targeting mid-to-late aged males like to call ED (erectile dysfunction) in the trailer, below.
When we first see the distressed character, he's discussing his struggle to maintain happiness with headhunter Dani Kirschenbloom (Ellen Barkin of The New Normal). We then see him in bed with his wife Lee, played by Kathryn Hahn (Parks and Recreation, Transparent), where he confronts the ugly truth about his lack of vitality and vigor.
After she suggests he pop some Viagra to cure the problem, he deflects by telling her he's worried it'll interfere with his anti-depression medication. This is the same old aging-man viagra joke we've seen dozens of times...
But at least this time we've got Steve Coogan uttering the words.
A lot of the comedy in the clip comes from watching Coogan's portrayal of a man caught in his own web of melancholy. Watching Payne and his wife come together in the bedroom portion of the trailer, even through the use of a somewhat clichéd declaration, still brings a smile to my face, mostly thanks to Coogan's approach and delivery. While the trailer doesn't necessarily look to be "laugh-out-loud funny," it has a nice, witty underlying delightfulness to it that will hopefully come through in the show itself.
In HAPPYish Thom Payne (Coogan) is a 44 year-old man whose life is thrown into chaos when his new, much younger and highly-driven boss arrives on the scene, creating a chaos for the aging man. The question he is trying to answer is simple: Is it Payne's unwillingness to enjoy his life as it is that is keeping him down or is it his life itself that is the problem?
While this type of material hasn't made up the bulk of Coogan's traditional work, it seems to be the direction he has taken in recent years. After his success with the 2013 film Philomena, in which he teamed up onscreen with Judy Dench, he has seemingly begun to target a somewhat older audience. And understandably so, as the film brought him Academy Award nominations for Best Picture and Best Adapted Screenplay. Prior to Philomena he was known as the guy from Hamlet 2 and Tropic Thunder. Before that he was recognized as the crazy title character from his multiple Alan Partridge projects.
Happyish was originally developed as a pilot starring Philip Seymour Hoffman and Parker Posey, and was picked up to series shortly before the tragic death of the aforementioned actor. Coogan eventually picked up the mantle, and now that he's on board in the leading role, the show is set to air on Showtime beginning on April 25.
Your Daily Blend of Entertainment News
Thank you for signing up to CinemaBlend. You will receive a verification email shortly.
There was a problem. Please refresh the page and try again.