Heroes Could Come Back As An XBox Series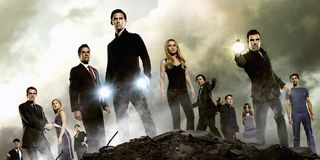 Could NBC's Heroes be making a comeback? There's reportedly talk of the superhero drama being revived as part of MSN's push toward original programming through XBox. MSN is said to be interested in "relaunching" the NBC Universal series, but obviously with new characters and heroes. Ideally, there would be cameos from the show's original cast if their schedules allowed.
TVline reports that talks are still in the preliminary stages, but it sounds like MSN's looking to revive Tim Kring's drama. There's no mention of whether or not Kring is involved in these talks at this point. And specifics in general are slim.
MSN's efforts to break into original programming through XBox isn't the strangest idea, especially in the wake of Netflix, Amazon and DirecTV's efforts to break into the industry. And as many XBox users already use their console to access streaming video (HBO Go, Netflix, etc), it was probably just a matter of time before MSN began looking at ways to add their own original content. Reviving or rebooting a beloved series - and one that may have been very popular among video game enthusiasts - seems like a good place to start.
While many of the core cast of the 2006 drama are currently engaged in film careers or other TV shows - to name a few, Nashville for Hayden Panettiere, Crackle's Chosen for Milo Ventimiglia, The Office for Jack Coleman - Heroes is the kind of show with a vast world of characters, which would make it a perfect candidate to be brought back with a new story and a new set of characters, still set in the world of the original series, and as mentioned, open to receiving cameos from the original cast.
Fans of the original series will probably see this as good news, and maybe even borrow a certain word from the beloved Hiro ("Yatta!"), but it sounds like things are still in the very early stages for this potential project. In the meantime, you can watch the original series on Netflix.